Mines Vice President Stefanie Tompkins named DARPA director
Tompkins will return to federal agency where she previously served as acting deputy director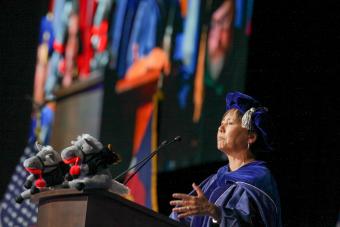 Stefanie Tompkins, vice president for research and technology transfer at Colorado School of Mines, has been appointed director of the U.S. Defense Advanced Research Projects Agency (DARPA).
The advanced technology branch of the U.S. Department of Defense, DARPA's mission is to develop breakthrough technologies and capabilities for national security. The agency announced her appointment on March 15.
Tompkins, who joined Colorado School of Mines in February 2018, oversaw all research activity and served as the public face of the university's diverse research portfolio.
"I cannot think of anyone better suited to lead a federal R&D agency as innovative and entrepreneurial as DARPA," said Mines President Paul C. Johnson. "Dr. Tompkins is a hands-on, highly engaged and visionary leader who genuinely enjoys helping others advance their ideas and innovations. During her tenure, Mines has expanded the scope, scale and impact of its research, and built solid partnerships with industry, U.S. and international universities, and government agencies and labs. These successes reflect Dr. Tompkins' extraordinary skills as an administrator, bridge builder and partner. Like my colleagues across campus, I am thrilled for Stefanie and DARPA, and am going to miss her."
"I am honored to serve as director of DARPA," Tompkins said. "It will be difficult to leave Mines, but my time here has helped prepare me for a number of national challenges, such as critical mineral supply chains, about which I knew little when I first arrived. I also have a much deeper understanding of academia's role in the national security research ecosystem, and look forward to renewed engagement with the many universities working on DARPA programs." 
An Army veteran and geologist by training, Tompkins has spent much of her professional career developing new technology capabilities. Before coming to Mines, she spent nearly 11 years at DARPA and was named acting deputy director in January 2017. Prior to that appointment, Tompkins led the agency's most exploratory unit, the Defense Sciences Office, accelerating research into new technologies in fields as diverse as atomic physics, biochemistry and materials science. As a DARPA program manager, she led the development of disruptive technology in navigation, manufacturing, optics, and solar energy.
Tompkins began her technology career in the private sector, first with a small business and then at Science Applications International Corporation (SAIC), as both a scientist and line manager. Trained as a planetary scientist, she was a NASA principal investigator and served on the science team for the Moon Mineralogy Mapper on India's Chandrayaan-1 lunar orbiter.
Tompkins earned her master's degree and PhD in geology from Brown University and holds a bachelor's degree in geology and geophysics from Princeton University. She also served as a military intelligence officer in the U.S. Army.