Tasha Snow receives 2023 AGU Open Science Recognition Prize
Mines research associate co-founded CryoCloud, a cloud computing hub expanding computational access for the cryosphere community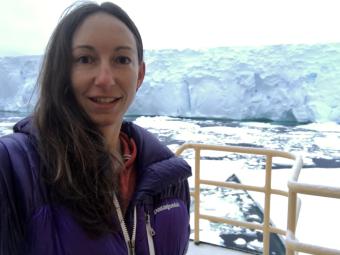 Tasha Snow, a research associate in the Glaciology Lab at Colorado School of Mines, has been selected to receive the Open Science Recognition Prize from the American Geophysical Union (AGU).
The prize is awarded to individuals or teams for outstanding work in advancing Open Science related to Earth and space science and its impact globally. AGU, the world's largest Earth and space science association, annually recognizes a select number of individuals for its highest honors.
Dr. Snow was recognized for her "extraordinary initiative in creating CryoCloud, a cloud computing hub enabling open science and expanding computational access." CryoCloud is a NASA-funded project co-founded and led by Dr. Snow with the mission of providing infrastructure and training to enable cloud-based workflows that streamline and accelerate scientific computing while expanding access to a broader community.
"I'm deeply honored to win this Open Science award from AGU. Really it belongs to our entire CryoCloud team, though, who have also contributed so much time, energy and creative thought to building infrastructure, training material and the generation of new open science community principles and standards," Snow said.  "Open Science breaks down research silos and builds collaboration to accelerate scientific research, and it also makes science accessible to those who historically have had less access, creating more impact for the communities that really need it. Within open science, CryoCloud specifically helps to build community, make collaboration easy and democratize science by leveling the playing field for researchers. No matter where they are in the world or what kind of computer they have, researchers can still access the tremendous amounts of computing power required to solve many of the critical and urgent climate issues we currently face."  
Dr. Snow's research aims to better understand high latitude ocean and glacier interactions and their implications for larger Earth systems. She holds a PhD in Geography from the University of Colorado Boulder, M.S. in Marine Science from the University of South Florida and a B.S. in Oceanography at the University of Washington. She joined Mines as a research associate in 2021 after doing a postdoc with the Cooperative Institute for Research in Environmental Sciences at CU Boulder. She also served as a Naval Officer in the U.S. Navy.
Dr. Snow joins other scientists, leaders, educators, journalists, and communicators from around the world who have made outstanding achievements and contributions by pushing forward the frontiers of science. Each recipient embodies the AGU's community's shared vision of a thriving, sustainable, and equitable future powered by discovery, innovation, and action.  These recipients have worked with integrity, respect, and collaboration while creating deep engagement in education, diversity, and outreach.
AGU will formally recognize this year's recipients at AGU23, which will convene more than 25,000 attendees from over 100 countries in San Francisco and online everywhere Dec. 11-15. This celebration is a chance for AGU's community to recognize the outstanding work of our colleagues and be inspired by their accomplishments and stories.
AGU is a global community supporting more than half a million advocates and professionals in the Earth and space sciences. Through broad and inclusive partnerships, AGU aims to advance discovery and solution science that accelerate knowledge and create solutions that are ethical, unbiased and respectful of communities and their values.
MEDIA CONTACTS
AGU: Samson Reiny, (202) 998-8654, news@agu.org
Colorado School of Mines: Emilie Rusch, Director of Communications, 303-273-3361, erusch@mines.edu