Tailings Center names Michael Henderson as its first director
New research and educational collaboration between Mines, Colorado State and University of Arizona launched in June
The Tailings Center, a research and education collaboration between Colorado School of Mines (Mines), Colorado State University (CSU) and the University of Arizona (UArizona), is pleased to announce the appointment of Michael Henderson as the center's first director.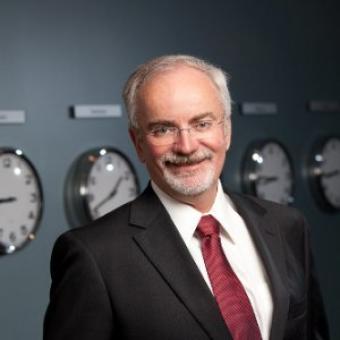 Henderson, a research professor in the Mining Engineering Department at Mines, will lead the day-to-day operations of the industry-university consortium, while site directors oversee participation in center activities at the three partner universities: Dr. Linda Figueroa, professor of civil and environmental engineering at Mines; Dr. Joe Scalia, assistant professor of civil and environmental engineering at CSU; and Dr. Jaeheon Lee, associate professor of mining and geological engineering at UArizona, supported by associate site director and senior lecturer Gail Heath.
Launched in June 2020, the Tailings Center was founded with a mission to improve professional and academic education opportunities, and to conduct research and technology development, that will advance best practices in tailings management in the mining industry. The center will operate as an industry-university consortium that serves as a center of excellence and provides a nexus for the advancement and dissemination of the best practices and industry benchmarking.
"The tailings industry is undergoing a generational watershed event, where there is full alignment across the globe to improve the planning, design, operation and closure of tailings facilities with an emphasis on reducing the risk of failure. This increased attention and emphasis on proper tailings management is resulting in a dramatically increased need for qualified individuals – in much greater numbers than can be provided in the traditional education and training process," Henderson said. "The Tailings Center and other similar university and research groups are meeting the immediate challenge of expanding the pool of qualified tailings engineers through dramatically expanded opportunities for education and training, and I am excited to serve as the first director of this joint initiative of Mines, CSU and UArizona, a uniquely suited cohort for taking this leading role in recruiting and training future tailings engineers."
Henderson has spent a nearly 40-year career in the engineering and environmental aspects of mine wastes, including tailings. He has worked for a large mining company, at a federal research center in Pennsylvania, and in consulting engineering and is currently participating in the external review board for several mining companies helping to guide tailings facility planning, operation and closure. Henderson has been actively involved with graduate programs at both CSU and the University of Nevada for nearly three decades, where he has taught courses related to geotechnical engineering and risk management. He has authored dozens of papers on geo-environmental issues around mine waste, and has contributed to three textbooks on the subject.
All three partner institutions participating in the center have strong reputations and complementary expertise in the field of mine waste management. Mines and the UArizona have long-standing world-class programs in mining engineering, and CSU has led tailings education and distribution of technical information for 40 years.
The Tailings Center is working across all three universities to establish graduate (MS and PhD) programs in Tailings Engineering to launch in Fall 2022. 
"There is a critical need to build capacity in tailings engineering education to meet the mining industries' dramatically increasing demand for specialized tailings engineers," Scalia said. "Training and education programs need to include both professional development to enrich practicing engineers through development of specialized skills, and broader multi-disciplinary graduate-level education in tailings engineering that spans mining and geotechnical engineering, and that's one of our chief goals of the Tailings Center."
The Tailings Center also aims to be responsive to the needs of the mining industry and facilitate focused research projects that will address those needs and provide solutions that can be implemented in the industry. The center's research programs will operate to provide a sustained research effort, transforming the industry by proactively transferring methodological and technological advances to the mining industry of the future.
"Historically, tailings management practices have been driven by best technical and economic factors. A new paradigm, as articulated in the ICMM 2020 Global Industry Standards on Tailings Management, embraces environmental and social considerations over life cycle of tailings," Figueroa said. "I am excited to be part of the Tailings Center to facilitate the university-industry partnerships needed to realize the holistic tailings stewardship." 
Members of the industry – including mining companies, consulting firms and investors – and others are invited to become members of the Tailings Center. For more information, go to https://mining.mines.edu/research/tailingscenter.