Spruce Hall designated LEED Platinum by U.S. Green Building Council
The residence hall is the second LEED Platinum certified building serving the Mines community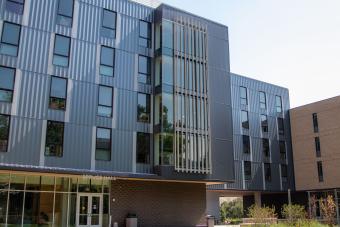 Spruce Hall, a Colorado School of Mines residence hall that also houses the Rec Sports Department's Motion Lab and the Explore Honors themed learning community, has been certified LEED Platinum due to the building's many sustainable features. It becomes the second LEED Platinum building at Mines after 1750 Jackson was certified earlier this year.
LEED, short for Leadership in Energy and Environmental Design, is the most widely used green building rating system in the world. Buildings certified LEED earn points for different green building strategies across several categories. Requiring more than 80 points, a Platinum LEED building is the highest designation given by the U.S. Green Building Council.
"Mines has a longstanding commitment to meeting challenges related to the Earth, energy and the environment," said Kirsten Volpi, executive vice president and chief operating officer at Mines. "We honor that commitment every day in our research and in the classroom, but it's also important for our campus buildings to reflect the Mines mission in their design and construction. Mines is honored to have a second building recognized as LEED Platinum, and we intend to follow the highest standards of sustainability in future construction projects."
Some of the sustainable features included in Spruce Hall's construction include:
Low-flow plumbing fixtures throughout the building, as well as low water use landscaping outdoors
Energy efficient mechanical systems, including in-room mechanical controls for each resident room and operable windows
Every room passed minimal air infiltration testing, which maximizes energy efficiency and minimizes air pollution in the building.
Materials with low volatile organic compounds (VOC) used in construction.
Building flushed with fresh air for several days before occupancy.
Along with the sustainable construction features, Spruce Hall also has numerous features that emphasize and celebrate the natural environment. Large photos of Colorado's landscape, many taken by Mines students and alumni, decorate common areas. Consideration of natural light was included in the design of many spaces, including all lounges and many of the stairwells and hallways.
Natural features outside Spruce were also taken into consideration by the design and construction teams. The only remaining remnants of Welch Ditch, which runs between Spruce and Weaver Towers, were enhanced by the design team. Though the ditch is short, it's one of the only natural waterways on the Mines campus. A small "beach" area next to Welch Ditch features sand, logs and chairs. Stepping stones over the waterway allow people to cross between Spruce and Weaver. The area of Welch Ditch, as well as much of the outside of Spruce, is certified by the National Wildlife Federation, because the plants in the area support native wildlife.
Designed by Anderson Mason Dale Architects and NAC Architecture, Spruce can house 370 students at full capacity. Construction was completed by W.E. O'Neil Construction. The building opened to student-residents in 2020.
The first building serving the Mines community to be certified LEED Platinum was 1750 Jackson. The four-story, 360-bed apartment-style residence hall welcomed its first student-residents in August 2020.