Colorado School of Mines residence hall receives LEED Platinum certification
1750 Jackson is the first multi-family residential building in Golden to achieve highest level of green-building certification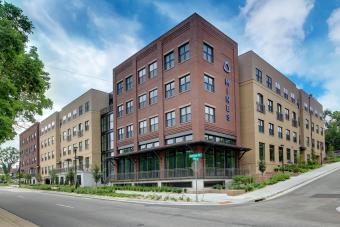 An apartment-style residence hall serving Colorado School of Mines students has received the highest certification given to sustainable building projects by the U.S. Green Building Council.
A public-private partnership between Mines and Confluence Companies, 1750 Jackson was officially awarded Platinum-level LEED for Homes certification earlier this year. The four-story, 360-bed residence hall welcomed its first student-residents in August 2020.
LEED, short for Leadership in Energy and Environmental Design, is the most widely used green building rating system in the world. Projects earn points for incorporating various strategies related to green building design, construction, operations and performance.
"For nearly 150 years, Colorado School of Mines has been training engineers and scientists to meet challenges related to the Earth, energy and the environment, and it's important that we live out that mission not only in our classrooms but also our physical campus," said Kirsten Volpi, executive vice president and chief operating officer of Colorado School of Mines. "Ensuring all new buildings on campus meet the highest standards for sustainable design, construction and operation is a key component of that work, and we are so excited that our newest residence hall has been recognized at the highest level of LEED certification in partnership with Confluence Companies."
"Sustainable development that minimizes the impact on the environment, creates a sense of place, and fits in with the fabric of the community are the core goals of every Confluence project," said Tim Walsh, CEO of Confluence Companies. "It was a pleasure to work collaboratively and creatively with Colorado School of Mines to deliver a LEED Platinum residence hall for many future generations of Mines students to enjoy."
Designed by Denver-based Craine Architecture and Given & Associates, the residence hall is 32 percent more energy efficient than industry standards. Some features include rooftop solar panels to offset up to 15 percent of the building's electrical use and an innovative energy-efficient heating and cooling system that will reduce energy consumption by over 40 percent. Sustainable building products were also used and during construction, 60 percent of all construction waste was diverted from landfills.
The hall also won points for its location and density – residents can walk across the street to do their grocery shopping, and multiple RTD bus routes stop right in front of the building.
Amenities were designed specifically with Mines students in mind. The apartment-style units have private bathrooms and kitchens, and community features include a fitness area, outdoor courtyards, on-site parking and bike storage, lounges and study areas.
Confluence broke ground on the property in 2018 and will lease the building to Mines for 30 years before turning over sole ownership to the university. Students began moving into the new building, which caters to sophomores and upper-class students, in August 2020.
Since 2008, all new buildings on the Mines campus have achieved LEED certification. Two others that also opened in 2020 are currently pursuing certification: McNeil Hall and Spruce Hall.
"As we approach our 150th anniversary, Mines is excited to make our commitment to responsible stewardship of the Earth and its resources even more visible on campus," Volpi said. "Our goal is to offset at least 10 percent of campus energy use with renewable energy by 2024, and we aim to achieve that through a combination of initiatives, including Mines' first major multi-building solar installation going up later this year."
About Colorado School of Mines
Colorado School of Mines is a public university focused on science and engineering, dedicated to educating and inspiring students, advancing knowledge and innovating to address the great challenges society faces today-particularly those related to the Earth, energy and the environment. Founded in 1874 with specialties in mining and metallurgy, Mines' scope and mission have expanded to meet the needs of industry and society, producing distinctive graduates and revolutionary innovations and becoming a world leader in advancing sustainable use of the Earth's resources.

About Confluence Companies
Confluence Companies is an entrepreneurial full-service real estate development, construction, investment and property management company headquartered in Golden, Colorado. With close to $1 billion in successfully completed projects, Confluence focuses on developing, building, owning and operating ground-up residential mixed-use properties. Using ingenuity, creative solutions and collaboration, we deliver high-quality developments faster, better and at a lower cost. We're passionate about creating exceptional places that tell a story. We are committed to crafting developments with timeless architecture to create a sense of place, sustainability to reduce the impact on the environment and thoughtful design to promote a sense of community.