Solar Decathlon team entering final push before competition
They're not afraid of the challenge, though. It's been a busy 15 months since Mines students learned they had qualified for the first-ever Solar Decathlon to be hosted in Africa.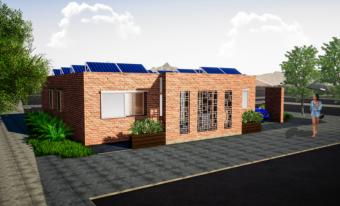 They won't start final construction in Morocco until August, but the Mines Solar Decathlon team isn't waiting to get building. 
The eco-friendly model home's wet wall – the interior wall that contains all the plumbing for the bathroom and kitchen – as well as the power storage and HVAC systems are being assembled and tested here on the Mines campus. By mid-June, they'll all be packed inside a shipping container headed to the Solar Decathlon Africa competition site in Ben Guerir, Morocco.
Unlike other teams who have competed in the global sustainability competition, though, that's all the Mines-led team will be able to build in advance of the three-week, on-the-ground construction period before the final competition Sept. 13-27, said team leader Katie Schneider '19.
"The houses that competed in Denver in 2017, they were built fully before they came here and then they took them down and shipped them. Because our house is brick, we can't build our house ahead of time," Schneider said. "We're really riding on three weeks to build this house for the very first time with no practice."
They're not afraid of the challenge, though. It's been a busy 15 months since Mines students learned they had qualified for the first-ever Solar Decathlon to be hosted in Africa.
With their Moroccan teammates from Cadi Ayyad University and the National School of Architecture in Marrakech, they have been hard at work finalizing the home's design and tracking down the materials needed to build a solar-powered net-zero-energy model house uniquely adapted to the North African climate and location.
"It's coming together. We're working on a lot of fun details. One of the contests is to host a dinner party, to show how you can use the kitchen and store the food. We're going to do a traditional American barbecue with chicken," Schneider said. "We're learning a ton about Moroccan culture. It's been really fun to work with the students there. In a sense it's been really challenging – they're on a wildly different school and holiday schedule – but they've all been very kind."
The team's U-shaped, two-bedroom home has undergone some changes since it first qualified for the competition back in March 2018. 
For one, they've added a small front wall to enclose the home's interior courtyard, in recognition of Moroccans' privacy concerns. 
"It's been interesting to think about certain things for the house that we wouldn't necessarily consider here," Schneider said. "Privacy is a big issue. Americans love big windows and our Moroccan teammates were hesitant about that." 
The same goes for a proposed open-concept layout between the kitchen and main living area. In Morocco, the kitchen is a more private space, so they added a door to close it off when needed.  
 
Schneider, who will start her master's degree in mechanical engineering in the fall, designed the home's HVAC system for her physics senior design project. Based around a conditioning energy recovery ventilator, or CERV, the energy efficient system is capable of heating, cooling and ventilating the home's indoor air. 
"With a remote control, you'll be able to tell it to keep the house between this temperature and this relatively humidity and this carbon dioxide level and then all the systems will kick on based on those instructions," Schneider said. "It's smart enough that if the air quality isn't very high, it will stop taking fresh air from the outside and it will just keep reventilating and recirculating what you have. This is something I will 100 percent have in my house someday. It's so cool."
To store the home's solar power, Mines is building a battery unit from second-life Nissan Leaf batteries, said Physics Associate Professor Tim Ohno, the team's faculty advisor.
"It's pretty innovative twist," Ohno said. "Second life is a nice idea because when you look at a car, when its battery system is replaced it typically has a lot of life left in it. It's just not enough to accelerate a car."
The work isn't over once the shipping container sets sail, either. The Mines students on the team will be busy the rest of the summer finishing up the final construction documents, marketing materials and more. Ohno and the team's construction manager, electrical engineering major Christian Amundson, will be in Morocco during the construction period while Schneider plans to be there for the competition. 
When they arrive in Morocco, the Mines students will be joined by 19 other university teams from around the world for the first decathlon competition held in Africa. The Solar Decathlon began in Washington, D.C., in 2002 and has been held biennially in the U.S. in the years since. 
The teams will build their homes in the Solar Village in Ben Guerir, a city of 88,000 about 75 kilometers north of Marrakech in central Morocco. Judges will then evaluate the homes in 10 separate events, assessing the homes' architecture, engineering and construction, market appeal, social awareness, appliances, livability, sustainability, health and comfort, energy balance and innovation.  
"One thing we've realized is it makes sense why Morocco is hosting this – they want to encourage sustainable building and that's the whole idea behind the Solar Decathlon, but it really doesn't exist right now in Morocco," Schneider said.