Snake-like microbots can swim through complex environments that mimic human body for targeted drug delivery
The findings from Mines researchers were published today in the Proceedings of the National Academies of Science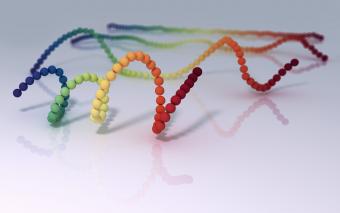 A team of Colorado School of Mines researchers has developed snake-like "microbots" able to mimic the swimming and crawling movements of real organisms to better navigate through twisting and turning environments — such as those found in the human body.
Their findings, published today in the Proceedings of the National Academies of Science, could have a significant benefit to the development of in vivo targeted drug delivery systems, said David Marr, professor of chemical and biological engineering and co-author of the paper.
"Controlling tiny devices in complex microenvironments is a challenging problem," Marr said. "Using chains formed from simple colloidal particles and directed with magnetic fields, we developed microbots capable of multiple modes of movement -- able to mimic microscopic swimmers such as bacteria and sperm as well as macroscopic crawlers such as inchworms and snakes. Given blood vessels of different sizes, surfaces, geometries and orientations, such reconfigurable microdevices could better move throughout the body."
The tiny one-dimensional colloidal chains -- which are only several microns in size -- aren't just limited to one mode of motion, either. The flexible chains can switch propulsion mode from free swimming to surface-enabled movement by changing the applied magnetic field, researchers found, enabling navigation through complex 3D environments such as channels that mimic arteries, veins and capillaries.
Other biomimetic microbotic devices are typically optimized for a specific function or environment and do not have the same adaptability found in natural systems and necessary for the navigation of complex environments. "Our work is inspired by strategies used by natural swimmers such as bacteria cells so that our snake-like microbots can change their shapes." said Ning Wu, professor of chemical and biological engineering and co-author of the paper. In other words, these new microbots can mimic the swimming of microorganisms such as flagella-rotating bacteria and tail-whipping sperm and then transition to the surface-enabled motion of arching and stretching inchworms and sidewinding snakes  -- all depending on the environment they find themselves in.
"Most microscale swimmers and some larger animals utilize long filaments or slender bodies for propulsion, since one-dimensional chains are the simplest structure that can be bent, twisted, braided or folded into a wide range of geometrically or topologically complex morphologies," the authors wrote in the paper.
"Our results show that flexible microdevices based on simple chains can transform both shape and motility under varying magnetic fields, a capability we expect will be particularly beneficial in complex in vivo microenvironments."
Collaborating on the paper at Mines were Tao Yang PhD '18, now a postdoctoral fellow at the University of Colorado, and Yang Guo PhD '18, as well as researchers from New York University and China's Soochow University.
The research was funded by NASA, with the goal of sending the reconfigurable microbots up to the International Space Station for study in microgravity hopefully in March 2021, Marr said.
To read the full article, "Reconfigurable microbots folded from simple colloidal chains," go to https://www.pnas.org/content/early/2020/07/15/2007255117.