Security in 3D: Engineering solutions to the U.S. military's parts problems
The Alliance for the Development of Additive Processing Technologies is using 3D printing to help the U.S. Army CCDC Ground Vehicle Systems Center.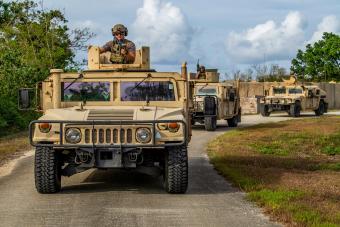 When soldiers are out in the field — literally in life-or-death situations — the last thing they need to worry about is a door falling off their tactical vehicle if they're hit by a roadside bomb.
Unfortunately, this situation is all-too-common for the mine-resistant ambush-protected vehicles the U.S. Army uses in the field. Due to the prevalence of improvised explosive devices, the vehicles were modified in 2007 with cab doors that added a 400-pound armor plate to the existing 800-pound design. But this extra weight exceeded what the door hinges could handle, and soldiers were suddenly forced to figure out how to reattach a 1,200-pound door to their vehicle, often in dangerous situations and risking further harm.
To further complicate matters, a failed hinge could cause a vehicle to be out of commission for a significant amount of time —possibly even years — before a replacement part can be procured, delivered and installed. But Mines' Alliance for the Development of Additive Processing Technologies stepped in with a solution to the problem when the U.S. Army CCDC Ground Vehicle Systems Center requested help creating an effective replacement that would hold up in the field.
"We used preexisting data from some DOE projects we had worked on to decide how to additively manufacture a direct replacement for the hinge that was breaking," said Aaron Stebner, Rowlinson Associate Professor of Mechanical Engineering and executive director of ADAPT. "Then we did destructive testing to prove that the additively manufactured hinge performed better than the part it was replacing." ADAPT developed a second iteration of the hinge that took the seven separate pieces of the original and additively manufactured the part as one piece that was less likely to break.
"The end result were these hinges that had about half the stress of the original part, they were printed as one piece instead of seven different pieces and could be printed in a few hours, as opposed to the months it would take the Army to procure a replacement part," Stebner said.
Increased confidence in 3D-printed parts is clearly the way forward for the U.S. military, providing safer, more reliable equipment for soldiers at home and overseas.
(This story first appeared in the 2019-20 issue of Mines Research Magazine. Read it and more in the interactive digital edition of the magazine.)