Nine junior faculty members and two doctoral students at Colorado School of Mines have each been awarded $5,000 by the Renewable Energy Materials Research Science and Engineering Center.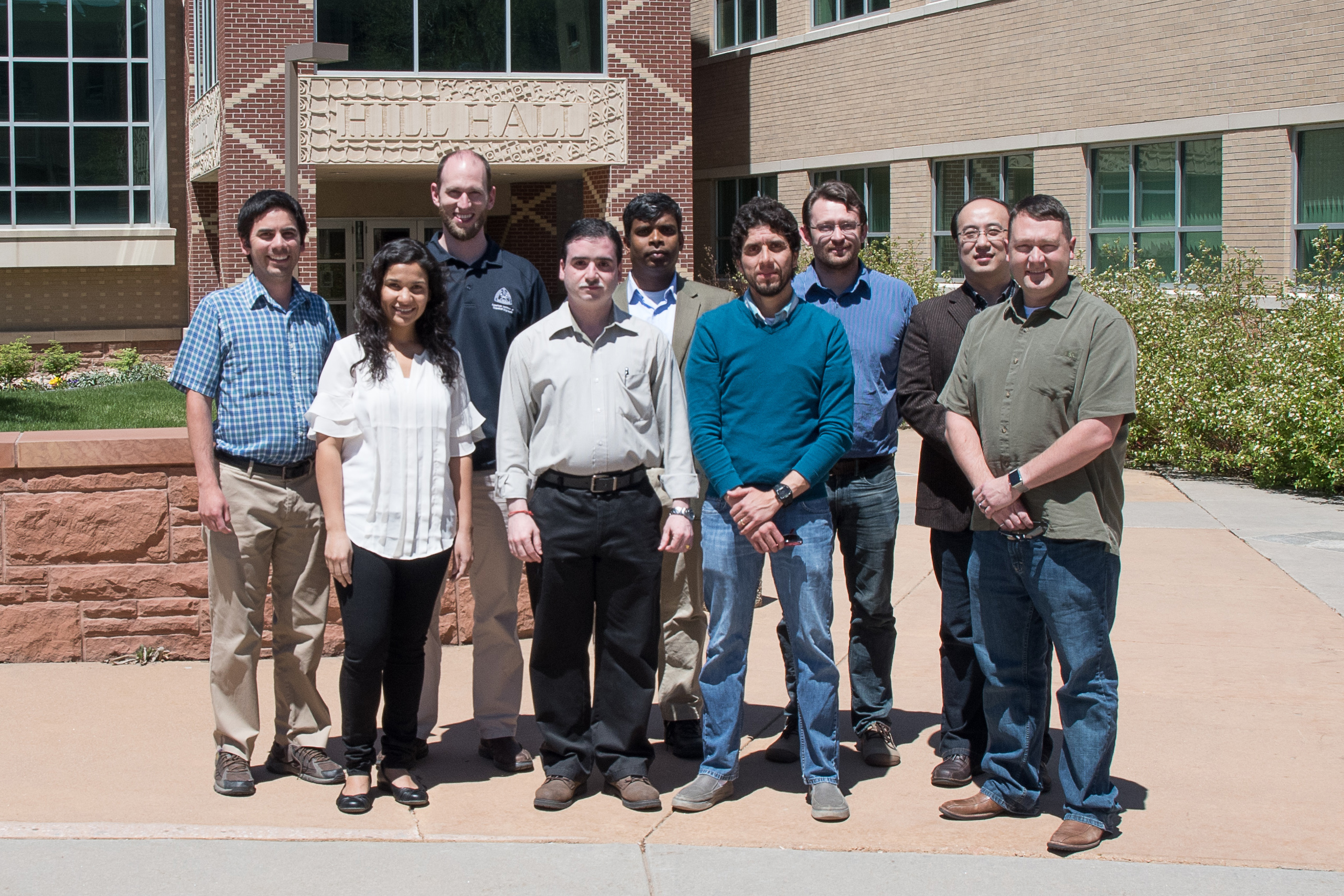 From left, Paulo Cesar Tabares, Meenakshi Singh, Kevin Cash, Shubham Vyas, Susanta Sarkar, Moises Carreon, Jeramy Zimmerman, Hua Wang and Geoff Brennecka.
Materials research related to renewable energy includes areas such as catalysts, membranes, inorganic and other materials for separation, ion transport, photovoltaics and energy storage materials.
The REMRSEC Summer Faculty Awards are intended to provide junior faculty support in preparing their research funding proposals to entities such as the National Science Foundation and the US Department of Energy. Winners also receive mentorship from the REMRSEC Executive Committee.
This year's faculty awardees are:
Assistant Professor Geoff Brennecka, Metallurgical and Materials Engineering, "Bismuthate Perovskites for Versatile, Tunable Photonic Behavior"
Associate Professor Moises Carreon, Chemical and Biological Engineering, "Porous Organic Cage Membranes for Energy-Efficient Molecular Gas Separations"
Assistant Professor Kevin Cash, Chemical and Biological Engineering, "Nanosensors to monitor biofuel metabolism and production"
Assistant Professor Susanta Sarkar, Physics, "Matrix metalloproteases for lignocellulosic biomass processing"
Assistant Professor Meenakshi Singh, Physics, "Novel Materials and Devices for Neuromorphic Computing"
Assistant Professor Paulo Cesar Tabares, Mechanical Engineering, "Enable Innovative Building Materials for Energy Modeling and Optimization"
Assistant Professor Shubham Vyas, Chemistry, for a proposal to investigate the use of a riboflavin derivative to use solar energy to split water
Assistant Professor Hua Wang, Computer Science, "Learning Guided Catalysts Discovery and Synthesis via Robuts Material Genome Data Mining Framework"
Assistant Professor Jeramy Zimmerman, Physics, "Understanding and Controlling Aggregation Processes in Mixed-Molecular Solids"
The Renewable Energy Fellowship Awards seeks to support the recruitment of high-caliber graduate students to the Mines materials community by supplementing the stipend of accepted students as well as supporting travel to conferences. This year's recipients are PhD candidates Brett Ley, metallurgical and materials engineering, and Amy Keuhlen, chemistry.
Ley, who will be advised by Metallurgical and Materials Engineering Associate Professor Corinne Packard, will work on a project titled "Engineering seed wafer reuse for high-efficiency III-V photovoltaics." The fellowship will also allow Ley to attend the 44th IEEE Photovoltaics Specialist Conference with Packard and their project collaborators from the National Renewable Energy Laboratory.
Keuhlen, who will be advised by Chemistry Professor Alan Sellinger, will work on a project titled "Design and Synthesis of Charge Transport Materials for Application in Hybrid Solar Cells. Sellinger said the ability to travel to conferences early in her graduate school career will help Keuhlen make faster progress in her research.
Contact:
Mark Ramirez, Managing Editor, Communications and Marketing | 303-273-3088 | ramirez@mines.edu
Ashley Spurgeon, Assistant Editor, Mines Magazine | 303-273-3959 | aspurgeon@mines.edu