Pre-med at Mines? A path to medical school is now paved
Colorado School of Mines undergraduates eyeing a medical career have multiple pathways, are well prepared to achieve goals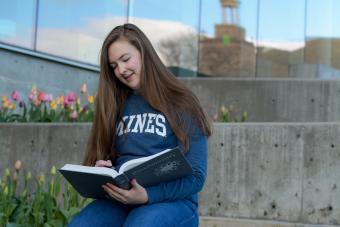 Ever since she was in high school in Colorado Springs, Azlan Tubbs knew she wanted to be a doctor. When it came to choosing where to go to college, however, her career ambitions weren't necessarily what guided her decision to come to Mines.
"I applied to a lot of different colleges and Mines was the one that stuck out to me," Tubbs said. "Once I visited campus, I could see myself there."
But how do you follow your medical school dreams while attending a school where the students around you seemingly all have engineering ambitions? For Tubbs and other Mines undergraduates, it just takes some flexibility and entrepreneurial spirit, common traits in any Mines student. Luckily for students starting at Mines now, the path has become even clearer.
For undergraduate students who know medical school could be in their future, the Quantitative Biosciences and Engineering (QBE) program offers a unique path. Launched in fall 2021, the Bachelor of Science program provides students a strong foundation in the quantitative skills and mindset needed for impactful careers in medicine or the biosciences. While Mines has offered biology courses for decades, the QBE program meets increased student demand for a more structured program that outlines a more direct path to medical school.
"The program is focused on modern biological applications with emphasis on quantitative and computational tools that will not only prepare you for medical school but also the future of medicine where gene editing and personalized medicine based off your genome will be commonplace," said Josh Ramey, teaching associate professor and director of the Undergraduate Quantitative Biosciences and Engineering program.
While the QBE program is designed for future medical school students, it's not the only way Mines undergraduates can prepare for a medical career. Both Tubbs and Ramey said several Mines alumni who went on to medical school have shared with them that their undergraduate classes and exams at Mines were as challenging – if not more so -- than the ones at med school.
"Mines provides a rigorous undergraduate education that will challenge you and prepare you for medical school," Ramey said.
Ramey's advice for Mines students pursuing medical school is to adopt a growth mindset and continually work towards their goal. Plan early—and don't get discouraged.
"Begin preparing for medical school right away," he said. "Your application will be a combination of your academic performance, research experiences, leadership positions, outreach and volunteering, as well as your engagement with the medical profession. A strong GPA on its own is not enough for admission to medical school. It's also important not to be discouraged if you don't get in on your first attempt – that's not uncommon."
For those looking for extracurricular support, a number of student organizations at Mines convene those pursuing the pre-med path. The Mines Pre-Medical Society is one of the larger options on campus, with members who are focused on medical school. Another is the new chapter of the American Medical Women's Association (AMWA) at Mines, started in October 2021 by Tubbs.
Tubbs took her MCAT exam, a prerequisite for medical school entrance, this spring and will be applying to medical school next year. Now a junior, she is majoring in computational and applied mathematics and minoring in biology. She said the support she has received at Mines has been central to her decision to keep focused on her goal of medical school.
"As a pre-med student, it's hard to figure out what you should be doing," Tubbs said. "But having someone to ask about what to do, and how to register for the MCAT, for example, has been important. People like [Teaching Associate] Professor Cynthia Norrgran, who has an MD and teaches a lot of the classes pre-med students take, have made it easier to navigate.
"I found the best professors and I don't think they exist at any other school," she said. "Your professors are willing to meet with you, which makes the experience less stressful. The quality of education here is something I don't think you can find anywhere else."