Peace Corps prep program gets Mines students ready to serve
Mines program, the oldest in Colorado, prepares students to be Peace Corps volunteers, global citizens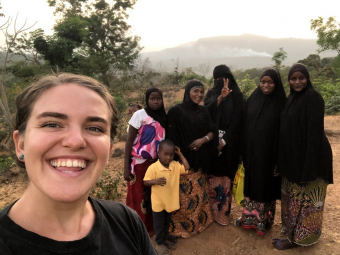 Humanitarian engineers from Colorado School of Mines make the best Peace Corps volunteers. Juan Lucena, professor and co-director of the Humanitarian Engineering (HE) program at Mines, knows this to be true.
"The Peace Corps doesn't get many STEM students applying to volunteer overall, but those are the kinds of people who are very valuable to the program – especially if they come with the training provided by our humanitarian engineering program," Lucena said.
In order to encourage more engineering students to enter the Peace Corps – and get students who already have strong STEM skills ready for the experience – Mines began a Peace Corps Prep certificate program in 2016. Recently renewed for five years, the partnership between Mines and the Peace Corps was the first prep program of its kind at a Colorado engineering school. Similar programs now also exist at Colorado College, University of Colorado Boulder, University of Colorado Denver and Western Colorado University.
The Peace Corps Prep certificate is designed to prepare Mines students both to be a Peace Corps volunteer and a better global citizen overall. It is administered through Mines' Humanitarian Engineering program, the first of its kind in the United States and one of only a handful across the country.
"At Mines, you can get an engineering degree plus minor in humanitarian engineering, with in-depth critical education about development, and then go on to get that real-world experience volunteering for the Peace Corps," Lucena said. "That combination is something you can't find anywhere else and it's a golden ticket for anyone interested in a career in international development."
Erika Jermé, one of the program's student advisers and herself a former Peace Corps volunteer (she served in Senegal on an urban agriculture project), encouraged students to apply for the prep program, even if they're not sure if the Peace Corps is the right fit for them.
"The program really prepares future Peace Corps volunteers, but more than that, it sets students apart, regardless of the type of job they're interested in," Jermé said. "It shows you can work effectively on a team and that you're prepared to address societal challenges. A typical engineering student at another school might not have exposure to a comprehensive program like this."
Many of the required classes for the Peace Corps Prep program are fulfilled by the Humanitarian Engineering minors in Engineering for Community Development or Leadership for Social Responsibility. Students also need to have a leadership experience – which can be fulfilled through a volunteer activity or working on group projects. Through the program, students receive professional and leadership development, coaching on interview skills and help with their resume from the Mines Career Center.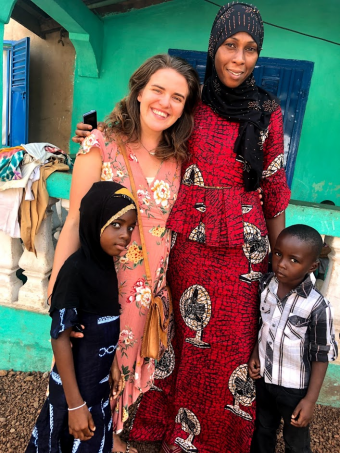 Dot Walch '19, seemed to be a natural fit for the Peace Corps, but she wasn't sure when she arrived at Mines as a freshman.
She chose Mines because she was interested in humanitarian engineering, driven to explore how engineering can be a force for good in the world. But, as the child of two parents who served in the Peace Corps (both worked in fish hatcheries, one in Ecuador and one in Honduras), she was also aware of the program's drawbacks.
Then, as a senior, when she was almost finished with her degree in civil engineering (and a Humanitarian Engineering minor), Walch realized that the Peace Corps might actually be a great opportunity for her, too.
"I remember talking to one of my professors in humanitarian engineering and saying I wasn't going to apply," Walch said. "But then when I thought of what I'd experience – I'd be learning a new language, learning about a new culture, living with a host family – it made sense for me to do it."
Having already fulfilled many of the course requirements through her minor, Walch was able to finish the Peace Corps Prep program before graduation. She already had the leadership experience as well – as a Shultz Scholar, she organized a group of fellow students to go to a Clinton Global Initiative University conference. She also volunteered in high school classrooms, bringing humanitarian engineering concepts to younger students.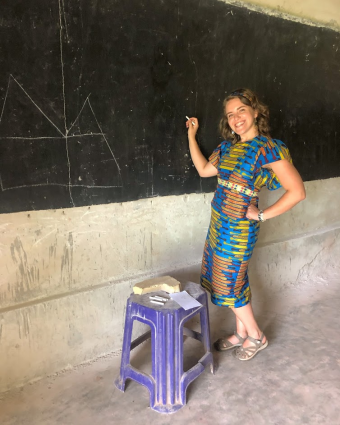 The principles imparted by the Peace Corps Prep program are valuable for students who are passionate about humanitarian engineering, Walch said.
"You learn how to exercise that engineering mindset of using what we have around us and putting solutions together," she said. "International development work has a complicated history, but because of the Peace Corps Prep program, I was able to learn about that first and I went into the Peace Corps aware of some of the difficulties ahead."
Walch was placed in Guinea as a math teacher soon after she graduated in 2019. The work was challenging because it was her first exposure to being a teacher, but she connected with people in the community where she was placed, helping them set up a library and reading room at the school where she worked.

Because of the COVID-19 pandemic, the Peace Corps temporarily suspended operations in March 2020, so Walch came home early from her two-year placement. Now, she works in Denver as a civil engineer at the U.S. Department of Commerce Economic Development Administration, hired through the CARES Act to work on grants aimed at providing communities with COVID-relief programs.
Walch said one of the biggest benefits of the Peace Corps Prep program was having a Mines network built into the experience.
"It was really cool to have some of my peers going through similar things, serving in other countries in Africa," she said. "While I was in Guinea, I had a friend in Mozambique and another friend in Tanzania. We weren't exactly physically close, but we would message with each other to discuss our experiences, both good and bad. People are a great resource, and you make some great connections through this program."