GOLDEN, CO, July 23, 2015 — Colorado School of Mines' premier policy institute for earth resources has a new name: the Payne Institute for Earth Resources.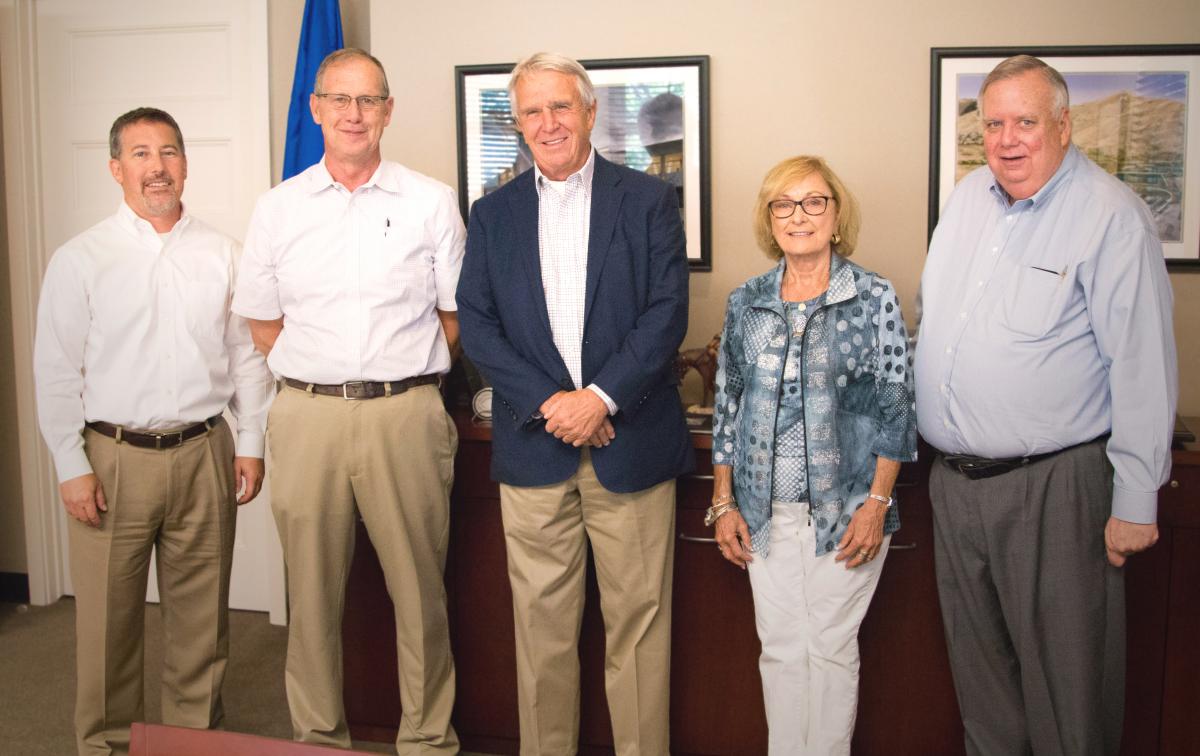 From left: Colorado School of Mines Foundation President and Chief Operating Officer Brian Winkelbauer, Provost and Executive Vice President Terry Parker, Jim '59 and Arlene Payne, and President Emeritus Bill Scoggins.
Thanks to a $5 million investment by Jim and Arlene Payne, the institute will move forward with plans to expand its leadership and reach. The Payne Institute will educate and inform policymakers and other stakeholders about pressing issues in the areas of earth, energy and the environment. Through research and policy analysis, the Payne Institute will foster collaborative partnerships with established research institutions, universities and government agencies around the world.
Originally established as the Earth Resources Institute in 2014, this new investment not only renames the organization, but enables the Payne Institute to propel its growth and enhance Mines' role as a global public policy leader in these focus areas.
The Payne Institute is a natural fit with Mines' specialized expertise and its dedication to serving industry and society since its founding in 1874.
"My vision is to leverage the Institute's first-class academic research and have it serve as the go-to resource for those engaged in public policy discourse on some of the challenges shaping our future," said Jim Payne, who earned his professional engineering degree in geophysics from Mines in 1959.
The Payne Institute is a campus-wide initiative, led by Mines' Division of Economics and Business and the Office of the Provost. "The Payne Institute provides Mines an institutional base from which to leverage a rich set of faculty resources across campus," said Division Director Michael R. Walls, who is spearheading the effort. "Mines is already known as one of the nation's top engineering and applied science universities, and the Payne Institute will open a wealth of opportunities to expand our innovative and influential quantitative analysis in the policy arena."
Research at the Payne Institute will promote analysis based on sound economic and scientific principles. Areas of research will include rare earths and critical materials, climate and carbon policy, pollution regulation, global trade and the environment, minerals policy, energy security and more.
Mines will host the Payne Institute's first Distinguished Lecture event featuring Adam Sieminski, administrator for the U.S. Energy Information Administration, on October 29, 2015. Other upcoming initiatives include the development of a topics-based annual conference in February of 2016, a Visiting Scholars program, a search for an institute director, a comprehensive set of policy briefs, and collaborative research initiatives both within the university and with external research partners.
Jim Payne retired as the CEO and Chairman of Shona Energy Company in 2013, and was previously the chief executive of several companies including Nuevo Energy Company, Santa Fe Snyder Corporation and Santa Fe Energy after a career with Chevron Oil. He has served as chairman of the Domestic Petroleum Council and the Offshore Energy Center as well as a board member of the American Geological Institute Foundation. In addition, Payne has served as an outside director on several service industry boards. He and his wife, Arlene, split their time between Pagosa Springs, Colo., and Fredericksburg, Texas.   
 
Contacts
Rachelle Trujillo, Senior Director, Foundation Communications / 303-273-3526 / RTrujillo@mines.edu
Kathleen Morton, Digital Media & Communications Manager / 303-273-3088 / KMorton@mines.edu
Karen Gilbert, Director of Public Relations / 303-273-3541 / KGilbert@mines.edu