Ore Cart expands service, with two new routes connecting Mines, W Line, downtown Golden
Free Silver, Tungsten routes will be operated by Colorado School of Mines in partnership with the City of Golden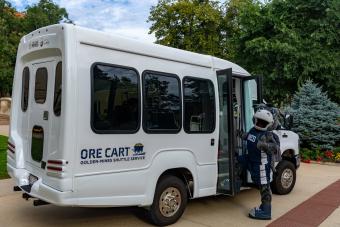 The free transit shuttle serving the Golden and Colorado School of Mines community, the Ore Cart, is expanding service today, with two additional routes connecting the Mines campus, RTD W Line and downtown Golden. 
The Ore Cart officially launched earlier this summer with the Gold Route downtown circulator, and added the Iron Route, an on-demand, app-based microtransit service on Aug. 1. A partnership between Colorado School of Mines, City of Golden and West Line Corridor Collaborative, the Ore Cart is free for all riders, ADA accessible and designed to complement and expand access to existing transit options in the Golden area, including the RTD 16 bus and W and G train lines.
The two new Ore Cart routes launching today are: 
Silver Route: Connects Mines Park apartment complex to central Mines campus, running down 19th Street to Elm Street and West Campus Drive to Maple Street and the Clear Creek Athletic Complex, 11th Street to Illinois Street
Tungsten Route: Connects Mines campus and downtown Golden to the RTD W Line's Jeffco Government Center Station, traveling Illinois Street to 11th Street, Jackson Street and South Golden Road to Johnson Road, Jefferson County Parkway to U.S. 6, 19th Street
Initial service hours will be Monday through Friday, 7 a.m. to 6 p.m. on the Tungsten Route, and  8 a.m. to 5 p.m. on the Silver Route. When fall classes begin at Mines on Aug. 21, service will expand to 6:30 a.m. to 6:30 p.m. Monday-Friday and 7:30 a.m. to 7:30 p.m. Saturday (Silver route will run 10 a.m. to 2 p.m. Saturday). Shuttles will operate on 15-minute intervals. 
Colorado School of Mines will operate the Silver and Tungsten routes, but all routes are open and free to all community members, visitors, students and faculty.
"Ever since we launched the Mines Rover pilot in 2021, we have heard loud and clear from the Mines community that they want more transit options to get to and from campus," said Jason Slowinski, associate vice president of infrastructure and operations at Colorado School of Mines. "With a free and convenient connection between the W Line and campus, students and employees who live in Denver, Lakewood and beyond can get to campus without a car, reducing both the car trips to and from Golden and the parking required on campus. We're excited to launch the expanded Ore Cart service today to help meet the mobility needs of our campus and the broader Golden community."
The Silver and Tungsten routes join the Gold Route, which circulates through downtown Golden, looping around Ford Street,13th Street, Maple Street, 11th Street, Washington Avenue and 10th Street. It also makes hourly detours west on 10th Street, with stops at the Golden Library/Farmer's Market, Golden Community Center, and Canyon Gate Apartments.
The Iron route connects the RTD G Line's Ward Road Station with the Coors Technology Center, downtown Golden and the Mines campus. Operated by the West Line Corridor Collaborative and Downtowner, the pilot service currently has funding through Nov. 30. Service hours are 6:30 a.m. to 5:30 p.m. Monday through Friday. Download the On-Demand service app here.
"The City of Golden is proud of this thoughtful partnership that helps us to bring much-needed transit options to our community," said Golden Mayor Laura Weinberg. "The multi-line transit system, free to all users, is the culmination of engaging community members and devising a plan that reimagines transit options. We are thrilled to partner on this pilot and look forward to continuing to learn how to improve transit options in Golden."
Funding for the Ore Cart comes from the Mines general fund, City of Golden and Mines student fees. More information about the Silver and Tungsten Routes, as well as the free RTD Eco Pass Program for Mines employees and students, is available at mines.edu/transit.
Additional details and FAQs about the Ore Cart can be found at guidinggolden.com/transit.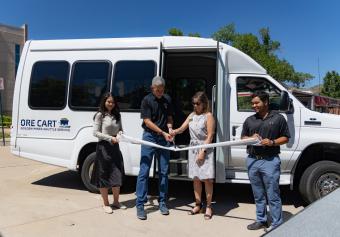 ###
MEDIA CONTACTS
Emilie Rusch, Director of Communications, Colorado School of Mines, erusch@mines.edu, 720-432-5203
Meredith Ritchie, Engagement & Communications Director, City of Golden, mritchie@cityofgolden.net, 609-276-2523