New geoscience makerspace opens on campus
Mines students can use the space to work on hands-on projects, test out ideas and experiment with new designs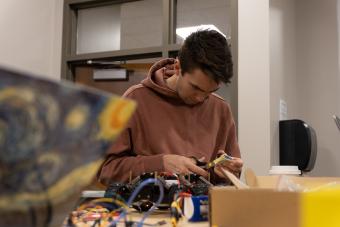 A new geoscience makerspace has opened on the Mines campus, giving undergraduate and graduate students a place where they can experiment with novel forms of instrumentation and try out their designs related to Earth observation.
Located in the Green Center, students can utilize the space to build and test equipment, which can then be used for research out in the field. Projects being worked on in this space include an effort to build low cost geoscience sensors that can be attached to drones and robotic vehicles, expanding their capabilities in Earth observation.
"We want to encourage students to embrace design challenges and use their creativity to create instrumentation that better suits their research and projects," said Jeffrey Shragge, associate professor of geophysics. "It's sometimes more productive to customize equipment instead of buying new, in terms of both cost effectiveness and really creating what you need. By getting hands-on experience with instrumentation, students also become more familiar with how they operate, and can troubleshoot should they need to while acquiring data."