Natalie Kalin: "I want to work on technologies that help shape the world in a positive way."
Colorado Springs, Colorado
Computer Science Master's Student
Tell us about your recent internship. What excited you about it and what did you do?
This summer, I worked with Canvas Technology (which was acquired by Amazon Robotics right before I started). The company designs and builds autonomous carts for warehouses. I have a real love for robotics and was interesting in working for a startup (pre-acquisition), which is what initially interested me in Canvas Technology. Over the summer, I worked in the quality assurance department. During my time, I was able to visit two Amazon Fulfillment Centers in both Denver and Seattle, assemble an autonomous robotic cart from the ground-up, and work on two projects in the QA department.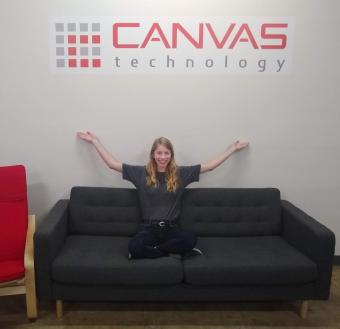 You did your undergraduate degree at Mines as well. Why did you pick Mines initially—and why did you decide to stay for your master's?
I have lived in Colorado my whole life, and I knew I wanted to stay in this beautiful state for college. Since I knew I wanted to be an engineer, my two choices really came down to either CU Boulder or Mines. Honestly, it wasn't much of a decision: Mines is an all-engineering school and is known for being one of the best public engineering schools in the nation. After visiting the campus, I knew I wanted this university to be my home.
As far as why I chose to stay for my master's degree, with the combined program here at Mines, it is easy for me to obtain both an undergrad and master's degree in only five years. Furthermore, after having an excellent undergraduate experience, it solidified my choice to obtain my master's.
What are your plans for the future?
My plans for the future constantly shift, but I know I want to work on technologies that help shape the world in a positive way. This has really driven my pursuit of robotics. By obtaining my master's degree in computer science, I hope to learn more about robotic topics that I was not able to learn about in my undergrad program (mechanical). I am learning about computer vision, machine learning, augmented reality and artificial intelligence. This will give me a large breadth of knowledge that I can take forward with me in my career.
What would you tell a student who was interested in joining your academic program?
I would certainly encourage anyone entering Mines to join the Computer Science program. Computer science is completely changing the landscape of the world, and I think having a fundamental knowledge of this discipline will give you the opportunity to also change the world for the better. Plus, the program here is quite flexible and allows you to specialize in robotics, data science, computer engineering or even business.
Favorite thing to do when not in class or working on coursework?
As a born-and-bred Colorado native, you'll find me outside any chance I get. I love running, hiking, skiing, caving and surfing (although there are not many opportunities to surf here in Colorado). Plus, I am an avid reader and writer. I set out goals for reading a certain number of books each year and try to write articles or bits of novels every day.
Dream job?
If I'm being honest, I have always loved the idea of being an Imagineer at Walt Disney World. How neat would that be?