Mines' Zoe Baker in the running for NCAA Woman of the Year 
The three-time RMAC Champion in cross country, track and field is the first Mines athlete to reach the Top 30 for the prestigious national honor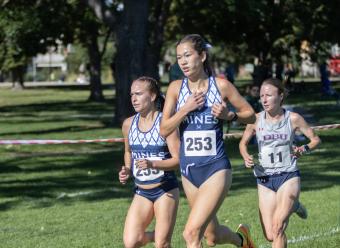 Zoe Baker, a student-athlete at Colorado School of Mines, is one of the Top 30 honorees for the 2022 NCAA Woman of the Year award.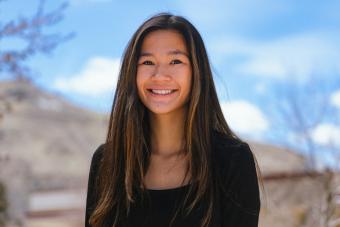 Baker, a 2022 CoSIDA Academic All-American of the Year and three-time RMAC Champion in cross country and track and field, is the first Mines athlete to reach the Top 30 for the prestigious national honor. 
Rooted in Title IX and launched in 1991, the NCAA Woman of the Year recognizes graduating female student-athletes for excellence in academics, athletics, community service and leadership. 
A single winner – selected from the pool of 30 honorees representing Division I, II and III athletics, 10 from each division – will be announced in January at the NCAA Convention in San Antonio. A total of 577 athletes across all three divisions nationwide were nominated for the award this year. 
"Colorado School of Mines is ecstatic to see Zoe recognized as one of the Top 30 Honorees for the 2022 NCAA Woman of the Year award," said Mines President Paul. C. Johnson. "Zoe is well-deserving of this national recognition as she represents the ideal of the true collegiate student-athlete, which is what our athletics program is built to support. Zoe is off the charts – she is a nine time All-American in track and field and cross-country and she graduated with a 4.0 GPA and dual degrees in computer science and applied mathematics. In addition, in her spare time she was a researcher and co-authored and published six papers on the use of machine learning to help human health, and she tutored other students. She is also a great person, a pleasure to talk to, and an inspiration for many. We are proud of Zoe and are excited to see her being recognized at the national level for the amazing student-athlete that she is."   
Accomplished on the track, course  
Baker began her collegiate running career at Mines in 2018 and quickly became one of the most decorated Orediggers in program history. She is a nine-time U.S. Track & Field and Cross Country Coaches Association All-American, including seven first-team honors. She finished third in the 5,000 meters at the 2021 NCAA Division II Women's Indoor Track and Field Championships and contributed to a third-place team finish at the 2019 cross country championships. A three-time RMAC individual champion, Baker won the cross country title in 2020, the 3,000 meters (indoor) in 2020 and the 10,000 meters (outdoor) in 2021. She holds four program records and two facility records at Mines.  
The Longmont, Colo. native was also recognized for her combined achievements as a student and athlete. She was named CoSIDA Division II Academic All-America Team Member of the Year for Division II women's track and field/cross country in 2022, while also earning first-team honors in 2021 and second-team honors in 2020. Baker is a two-time NCAA Elite 90 Award recipient, presented to the student-athlete with the highest grade-point average competing at an NCAA championship finals site. In total, the Silver Creek High School graduate boasts eight First-Team All-RMAC awards, nine USTFCCCA All-Region awards, and more than 30 awards for her combined athletic and academic performance. 
"When Zoe came to Mines, she made an instant impact and changed the program," said Mines Cross Country Head Coach Chris Siemers. "Before she came here, the women's cross country team had never been on the podium at the NCAA Championships. Now, we're one of the top teams in the country, and a lot of it has to do with Zoe coming to Mines, doing what she does every day, and doing it with passion. She's passionate about everything she does, and she's definitely changed everything." 
Pacesetter in the classroom, lab 
Baker's accomplishments in the classroom set a high bar among all Mines students, not just student-athletes.  
Baker graduated summa cum laude in May with dual Bachelor of Science degrees in computer science and applied mathematics and statistics. She was named the Outstanding Graduating Senior in the Department of Applied Mathematics and Statistics, as well as one of two winners of Mines' most prestigious student honor, the William D. Waltman Award, which is presented to the graduating seniors who have consistently demonstrated the utmost integrity, scholarship and citizenship in and out of the classroom throughout their collegiate career. 
During her rigorous course of studies, Baker carried a 4.0 GPA through her senior year and was recognized with a 2020 Barry M. Goldwater Fellowship, the preeminent undergraduate award of its type in natural sciences, engineering and mathematics. 
Outside the classroom, she served as an Honors TA for first-year students, mentored fellow undergrads as a resident advisor, worked as a high school tutor in math and computer science, and frequently presented at diversity-focused events. 
During all four undergraduate years at Mines, Baker also served as a student researcher, working with Computer Science Associate Professor Hua Wang on the use of machine learning to solve problems in human health. During the COVID-19 pandemic, that included significant contributions to the development of an algorithm to help healthcare professionals efficiently identify high-risk patients – in spite of potentially missing or incomplete patient data – using multiple-instance learning techniques and low-rank data imputation to predict clinical outcomes of COVID-19 patients. 
"Zoe Baker's potential to contribute to this vital research area is boundless," Wang said. "Her sustained, compelling work has produced essential contributions and earned her co-author credits on six published research papers with my team, all in prestigious conferences and journals. This publication record shines among top undergraduate researchers worldwide. Zoe is one of the most prolific and impactful undergraduate researchers that CS@Mines has had the good fortune to nurture."  
In recognition of her contributions in the lab, she was a finalist for the 2022 Outstanding Undergraduate Researcher Award from the Computing Research Association, as well as a finalist for the 2022 Collegiate Award from the National Center for Women & Information Technology.  
Now in her final season of NCAA eligibility in cross country (she has two more years of eligibility in track and field), Baker is currently working toward her master's degree in computer science at Mines. Earlier this year, she won a coveted National Science Foundation Graduate Research Fellowship to help fund her studies.  
"Colorado School of Mines has basically given me every opportunity I've asked for. They've given me a launching pad for so many different ambitions of mine, running wise, school wise, career wise," Baker said. "I'm just so incredibly thankful for Mines and hoping that I can pay it back in some way."