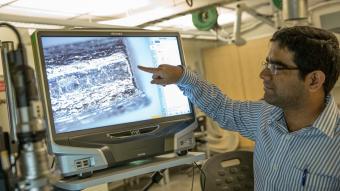 A team of Colorado School of Mines educators and researchers has been awarded nearly $2 million in National Science Foundation funding to develop online learning opportunities that empower the workforce of today and tomorrow to better harness the power of data in advanced manufacturing.
Mines is one of five universities nationwide to receive a Production Engineering Education and Research (PEER) award, announced today by the NSF and made possible by a $10 million gift The Boeing Company made in 2018. NSF and Boeing developed the program to advance the workforce for future needs through a convergent science approach that integrates knowledge, methods and expertise from different disciplines to address the problem. 
All five PEER awardees – Mines, the University of Southern California, Purdue University, Northeastern University and Oregon State University – will create online coursework that builds different key STEM skills at the community college, undergraduate, graduate and professional levels.
The Mines team, led by Sam Spiegel, director of the Trefny Innovative Instruction Center, will focus its attention on data science in advanced manufacturing by developing adaptive learning progressions that access and advance current workers as well as students at community colleges and universities.
"In today's changing workplace with ubiquitous access to information, rapid expansions of data, new technologies and new processes in advanced manufacturing, updating workforce skills has never been more important," Spiegel said. "Cognitive flexibility, creative problem-solving and emotional intelligence alongside data science are the four highest competencies that are required going forward, because as more and more work gets automated, the question is, what's the part that can't be automated? In advanced manufacturing, it's the complex problem-solving, the critical thinking, the creativity in using the data to inform the work that humans do best."
Partnering with Spiegel as co-principal investigators are Craig Brice, director of the Advanced Manufacturing Program and industry relations director of the Alliance for the Development of Additive Processing Technologies (ADAPT), and Jenifer Blacklock, teaching professor of mechanical engineering. Together with additional faculty from Mines, Red Rocks Community College and Colorado Community College Online, the team has experts in the core content of advanced manufacturing and data science, as well as human-robot interactions, industry perspectives and needs, educational design and learning science.
While some of the topics have been predetermined – data science tools and methodology, the foundations of advanced manufacturing and applying data science to the field – the project's industry advisors will play an important role in reviewing the content and ensuring the pathways address actual industry skills gaps, Spiegel said.
Those industry partners include Adaptive Innovation Corporation (A-I Corp), Electro-Mechanical Products, Microbial Pulse, Stratasys and Boeing. 
"The challenge in today's manufacturing environment is that while this data exists, our manufacturing process engineers are unsure how to tap into it, how to manipulate and analyze it and how to convert the data into process improvements," Brice said.
For example, manufacturers often have hundreds or thousands of process data points throughout their operation, Brice said. This data is usually treated as singular, unconnected measurements and little is done to understand trends or the interaction effects with other data streams. By providing data science skills to current and future manufacturing employees, the datasets become analyzable and interpretable, resulting in more efficient processes and a reduction in errors and defects.  
"In their advisory roles, our industry partners will provide guidance on the data science needs for their current and future employees," Brice said. "This insight will help to tailor the program such that it provides the most relevance to the manufacturing workforce in a broad range of industries."
Based on the identified gaps, the team will develop adaptive learning pathways. The pathways will include self-assessments, modules and fully online courses – for learners in four different settings: self-directed, industry, two-year community colleges and four-year universities. 
Some modules will be publicly available to anyone interested in the convergence of data science and advanced manufacturing, while other self-assessments and self-study options will be developed specifically for use in industry. Red Rocks Community College and Colorado Community College Online will inform the design and testing modules, as well.
At Mines, core courses in the Advanced Manufacturing Program will serve as test cases in which the researchers can embed the newly designed assessments and modules. The program, which launched in Fall 2018, offers non-thesis master's degrees and professional certificates targeted at working professionals.
In addition to developing the coursework, PEER awardees will also study their effectiveness. That means Mines researchers will be able to compare, for example, whether a gamified learning module works better than a self-study module or a facilitated module in conveying specific content, Spiegel said. 
 
The Trefny Center utilizes a model of course design and implementation called Engineering Learning, which is based on modern learning theory and on an engineering design model, making the process more accessible to STEM faculty. 
"We have a unique process for developing online curriculum here at Mines, and with this funding, we'll be able to better utilize that in the Advanced Manufacturing Program and extend it to embedding learning opportunities directly into industry and in community colleges. This research will not only inform us but the broader field," Spiegel said. "Mines has established itself as a leader in educating STEM professionals and as being at the forefront of modern teaching and learning to align with the current and future needs of industry and our students."