Mines is the top national university, public school in Colorado: U.S. News & World Report  
Colorado School of Mines was also recognized for innovation, undergraduate teaching, support of student veterans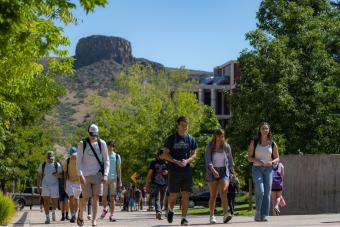 Colorado School of Mines maintained its place as the top national university in the state of Colorado in the latest rankings from U.S. News & World Report. 
Released on Monday, the 2023 rankings assessed more than 1,400 bachelor's degree-granting colleges and universities on multiple measures of academic quality.  
For 2023, Mines ranked No. 89 among national universities in the U.S., a category that encompasses public and private institutions that offer a full range of undergraduate majors, plus master's and doctoral programs, with an emphasis on faculty research. Behind Mines in Colorado, University of Colorado Boulder was No. 97, University of Denver ranked No. 105, and Colorado State University was No. 151. 
Earlier this year, Mines was elevated to the Research 1 (R1) classification by the Carnegie Classification of Institutions of Higher Education, the highest and most prestigious designation granted to U.S. research universities. Only 146 colleges and universities – out of nearly 4,000 public and private institutions of higher education nationwide – are classified as R1 "Very High Research Activity" universities. 
In the rankings, Mines was also recognized for its innovation (No. 20), undergraduate teaching (No. 41) and support of student veterans (No. 56). Among public schools, Mines was No. 38, the top spot in Colorado.  
"The most recent rankings are just another testament to the fact that Colorado School of Mines continues to deliver a high-quality and distinctive education to our students. At Mines, students get to participate in hands on education with our top-notch faculty, participate in once-in-a-lifetime research opportunities, and engage with like-minded students from all over the world," said Lori Kester, associate provost for enrollment management. "With Fall 2022 being our newest largest incoming class, there is no denying that Mines is a highly sought-after and desirable university that students want to attend."
Where Mines stacks up in the 2023 U.S News & World Report rankings:  
No. 20 in Most Innovative Schools  

No. 38 in Top Public Schools  

No. 41 in Best Undergraduate Teaching  

No. 45 in Best Undergraduate Engineering Programs - Overall (Highest degree: Doctorate)
 

No. 56 in Best Colleges for Veterans

No. 89 in National Universities