A group of Colorado School of Mines undergraduate students have spent nearly two years preparing for a competition to build a home that generates as much energy as it consumes, and their work is about to pay off in a "tiny" way.
Mines Tiny House, which formed in the fall of 2015 as a way for students to prepare for the 2019 Solar Decathlon, is nearing completion of construction on a 220-square-foot tiny house.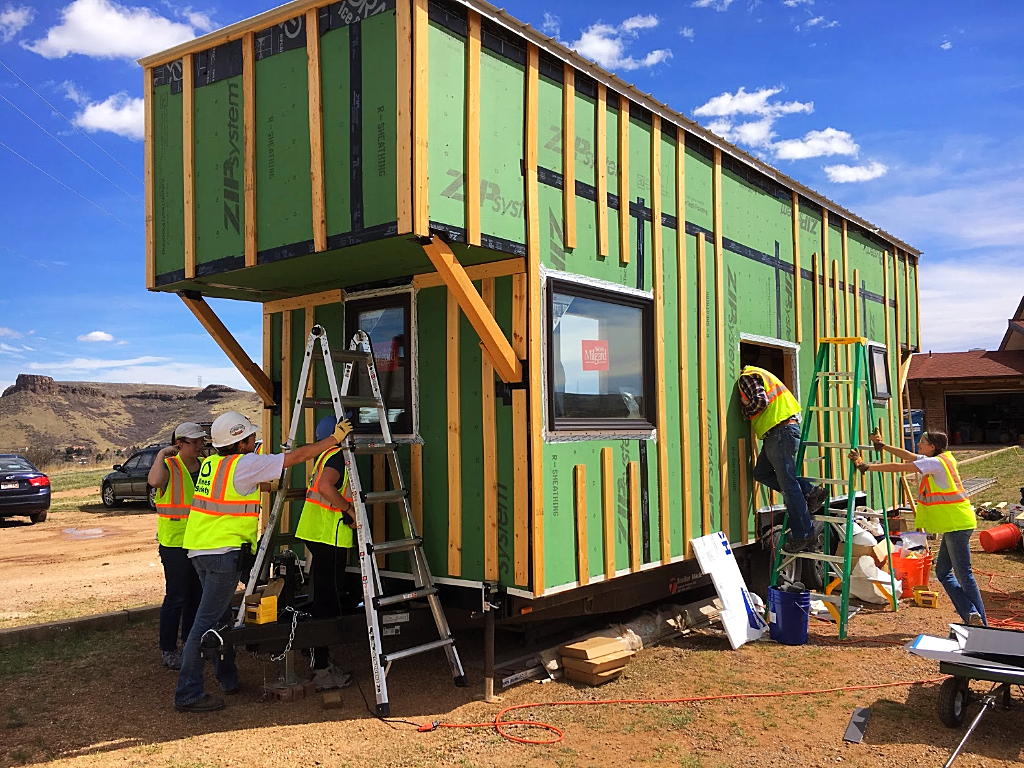 Mines students installed the windows on the tiny house on a Saturday in April.
"We thought of it like a pilot project," said engineering physics sophomore Katie Schneider, Mines Tiny House co-planning chair. "For the decathlon, the house will be full-size, so building a tiny house first was a great way for us to learn what a big project like that will take, while also showing knowledge and experience for our application into the competition."
The Solar Decathlon, which takes place every two years, challenges teams of students from universities around the country to build a "net-zero home." For the competition, this is accomplished primarily by the use of solar energy, through solar panels, passive solar heating and other methods.
Colorado School of Mines has never competed in the international Solar Decathlon competition, and Schneider noted most teams that apply come from construction or architecture backgrounds, making Mines' team unique with their engineering and science perspectives. 
"We will be one of the most unique teams applying," said Schneider, who also noted that none of the team members have construction or civil engineering backgrounds, with most of them majoring in engineering physics. 
In addition to building the tiny house, the team also submitted a paper for the Race to Zero competition, which asks students to design a full-size, net-zero home, but not actually build it. The team will present their paper next weekend at the competition, which will be held at NREL.
"We could not compete in the Solar Decathlon without having done either of these projects," Schneider said. "Both the tiny house and Race to Zero taught us a lot about time management, organization and preparation, which will be essential for our success moving forward as we submit our application to the Solar Decathlon in October and then hopefully build a full-size home over the next two years."
And while a full-size house is the end-goal, the team is celebrating their smaller success for now. 
"We put the windows on last week, and are hoping to have it fully complete by the end of the summer," Schneider said. Fundraising through the
Gold Mine
will be used to complete the interior. The team plans to keep the tiny house, which was built on a trailer bed, on the Mines campus as a research lab and for community outreach.
"I'm really excited about the opportunities for outreach with the tiny house once it's completed," said Schneider, who noted that several community groups, including Boy Scout troops and school groups, have already come out to see their progress. 
"Last fall we were invited to be a part of the Golden Solar Homes Tour," Schneider said. "We were only able to show off our design plans then, but this year we are excited to show the completed house."
They are also hoping to show off the house at the 2017 Solar Decathlon, which will be held in Denver this October. 
Their faculty advisor, Physics Professor Tim Ohno, praised the team, made up mainly of freshmen and sophomores, saying that they have overcome a "steep learning curve" and have "pushed their limits" in order to accomplish their goals. 
Contact:
Megan Hanson, Communications Manager, Academic Affairs | 303-384-2358 | 
mhanson@mines.edu
Mark Ramirez, Managing Editor, Communications and Marketing | 303-273-3088 | 
ramirez@mines.edu