A multidisciplinary team, led by the Ben L. Fryrear Professor of Civil and Environmental Engineering Tzahi Cath, has received a $1 million award from the National Science Foundation to develop an innovative monitoring and control system for small wastewater treatment facilities.
The project, titled "Self-Correcting Energy-Efficient Water Reclamation Systems for Tailored Water Reuse at Decentralized Facilities," draws on the bioreactor at Mines Park, which treats more than 7,000 gallons of domestic wastewater each day, and will integrate existing and new wireless sensor networks to monitor water quality and for process monitoring and control.
"Improved monitoring of water quality and early warning of treatment system vulnerabilities are critical to protecting the public and the environment," said Cath. "The smart service system we are building uses a network of simple, existing sensors and a novel wireless sensor network. These new, smart sensor technologies can learn from past performance, predict future performance and adapt the system to achieve preset objectives."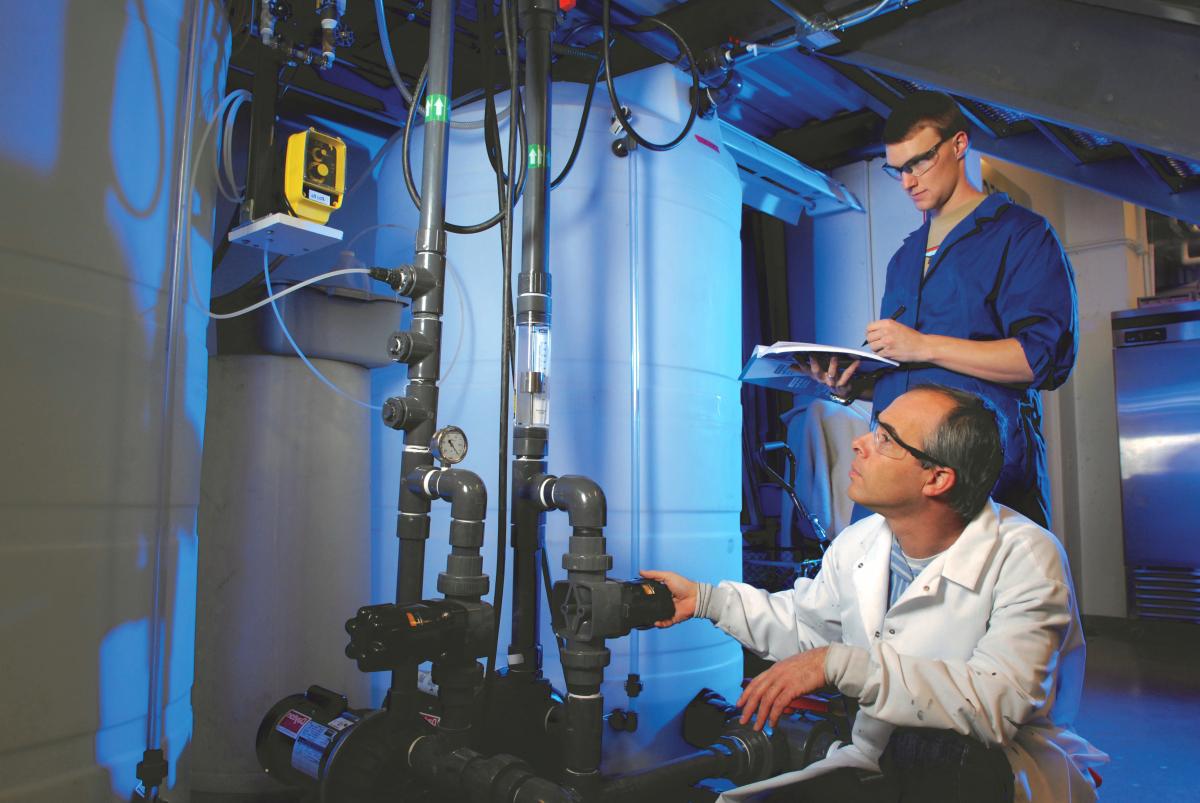 Professor Tzahi Cath and a graduate student take readings at the AQWATEC Laboratory.
In addition to being more energy and resource efficient, the new system will benefit many small communities that operate decentralized wastewater treatment facilities and don't have the resources to improve their system.
Cath also attributed the project's selection to the foundation laid by the Engineering Research Center for Re-Inventing the Nation's Urban Water Infrastructure, also known as ReNUWIt, at Colorado School of Mines. "All of this is only possible because ReNUWIt at Mines that has been building these partnerships in an effort to develop new strategies for water management and treatment," said Cath.
After testing the new monitoring and control system at Mines Park, the team will work with industry partners from Aqua-Aerobic Systems and Kennedy/Jenks Consulting as well as broader context partners such as Ramey Environmental in Frederick, Colorado, to deploy, incorporate and test the system at existing small, decentralized treatment plants.
The team includes Professor Tracy Camp from the Division of Computer Science, Assistant Professor Salman Mohagheghi from the Division of Electrical Engineering, and Associate Professor Hussein Amery from the Division of Liberal Arts and International Studies, as well as professors Amanda Hering and Michael Poor at Baylor University. The team will also include graduate and undergraduate students from CEE and CS.
The grant is one of 13 awarded by the NSF's Partnerships for Innovation: Building Innovation Capacity program, in support of innovative partnership projects that create new human-centric service systems.
 "The National Science Foundation fosters innovation and partnerships between academic researchers and industry, catalyzing interdisciplinary projects to understand and design smart systems and technologies of the future," said Grace Wang, acting assistant director, NSF Directorate for Engineering. "These 13 projects are at the forefront of the human-technology frontier, driving innovation to solve problems to benefit society and improve life as we know it."
 
CONTACT:
Deirdre Keating, Communications Manager, College of Engineering & Computational Sciences | 303-384-2358 | dkeating@mines.edu
Mark Ramirez, Communications Manager, College of Applied Science & Engineering | 303-384-2622 | ramirez@mines.edu