Mines takes first place at 2022 ASCE Rocky Mountain Student Symposium
Steel bridge, concrete canoe, surveying, sustainable solutions teams all headed to society-wide competitions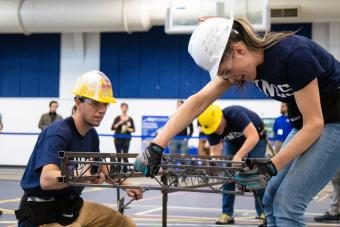 Colorado School of Mines students were not only great hosts but also strong competitors at the 2022 American Society of Civil Engineers (ASCE) Rocky Mountain Student Symposium, earning the title of overall conference champions.
Leading the way was Mines' Steel Bridge, Concrete Canoe, Surveying and Sustainable Solutions teams, all of whom punched their tickets to the national finals in their respective competitions.
Nationals for the AISC Student Steel Bridge Competition will be held May 27-28 at Virginia Tech, with the rest of the society-wide competitions set for June 3-5 at Louisiana Tech University. 
AISC Student Steel Bridge Competition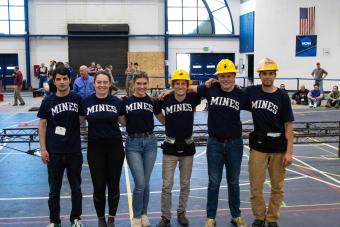 The Mines team was named the overall bridge champion, with first place finishes in cost estimation, construction economy, aesthetics, lightness and construction speed and second in stiffness and structural efficiency. Members of the Capstone Design team are Paige Vasquez-Housley, Trevor Valder, Harry Bruno, Emma Moore,  Jordan Marsh, Brandon Onofre, and Mikheil Abuladze. 
ASCE Concrete Canoe Competition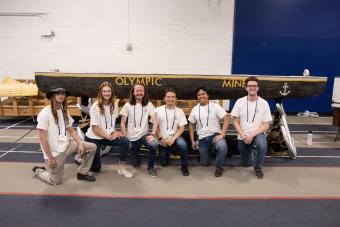 The Mines team cruised to a second place finish following a strong showing during Friday's technical competition. The Mines canoe took first place in presentation, second place in final product and third place in tech proposal. During Saturday's races, the team placed first in men's slalom, second in co-ed sprint and women's sprint and third in men's sprint. Members of the Capstone Design team are Sammy Van Sickle, Jacob Tunnah, Chance Pennington, Jeffrey Wilson, Austin Almeida, Riley Goetz and Loralee Stock.
UESI Surveying Challenge
The Mines team of Hanna Fitzgerald, Cooper Henry and Caleb Roth ran away with first place, to earn a spot at nationals. 
ASCE Sustainable Solutions Competition
The Mines team of Cody Goebel, Julie Friedman, Mya Newberry, Nick Beckman and Logan Hahn put forth a quality product to earn first place. 
Also posting strong results were Mines students in the Mystery Design challenge (Nick Beckman, first place; Sam Thompson, second place); and the Pre-Design team of Benji Rizzi, Allison Bean, Ryan Irvine, Pessett Peau, Sam Thompson and Grant Gulevich, which earned first place honors.
Mines hosted the annual student symposium this year, welcoming hundreds of students from across the Rocky Mountain region to campus April 8-9. To see more photos from the weekend, go to mines.zenfolio.com/p5711103.