Mines to support new U.S. Department of Energy entrepreneurship program
West Gate, DOE's newest Lab-Embedded Entrepreneurship Program, will be hosted by the National Renewable Energy Laboratory with support from Mines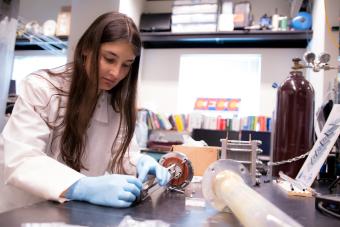 The U.S. Department of Energy Advanced Manufacturing Office has launched a new lab-embedded entrepreneurship program at the National Renewable Energy Laboratory to support promising cleantech innovators, and Mines will be supporting the effort. West Gate will provide mentorship and technical resources for up to five innovators as part of its first cohort, chosen through a highly competitive process, starting in Fall 2022.
As part of the program, Mines will provide the West Gate innovators with office space at the Beck Venture Center on the Mines campus, where they can meet, network, and develop relationships with business professionals and Colorado School of Mines students and staff.  Additionally, West Gate innovators will have the opportunity to participate in E&I programs like Innov8x, where they can pose problems that Mines students from all departments can brainstorm and help define, as well as come up with new potential solutions, said Werner Kuhr, director of the Center for Entrepreneurship and Innovation at Mines.
"One of the big things we push is the scientific method for marketing. Who's your customer? What's my value? What's my solution? And then you test it," Kuhr said. "We can help the West Gate innovators answer these big questions."
Scientists, engineers, inventors and entrepreneurs with promising technology they want to commercialize are ideal candidates for the West Gate program. Those selected for Cohort 1 will be notified this summer, with anticipated relocation and onboarding to begin in Fall 2022.
Innovators accepted into the program will receive an annual $100,000 stipend, two years of technical assistance funding, individualized programming, entrepreneurial mentorship and support, and benefits for qualifying candidates. Those selected must relocate to the Denver area and commit full-time to building their company for the duration of the program. NREL promises to provide innovators "the time, training and technical capabilities to accelerate a promising technology into an early-stage company ready for growth," according to the West Gate website.
One of the biggest resources Mines will be providing the program is people, Kuhr said. Mines students can connect with West Gate innovators to work on projects that interest them, and faculty members with deep technological knowledge can offer counsel.
"Mines has the people with the expertise and the drive to push forward the development of promising ideas. The synergy between the West Gate program and our tech commercialization efforts at Mines are extremely well aligned," Kuhr said.
The timing works well with the Beck Venture Center's construction, with the new three-story, 33,000-square-foot facility at 17th street and Washington Avenue anticipated to open in Fall 2023.
Mines' participation in West Gate is one of several programs that supports the university's mission of innovation and entrepreneurship. The new I-Corps Hub program, funded by the National Science Foundation, is part of an effort to cultivate new innovations and ventures in deep technologies. Mines is one of eight research universities in the I-Corps Hub West Region.
For more information about West Gate, go to https://www.nrel.gov/innovate/west-gate.html.