Mines' Shared Instrumentation Facility centralizes access to cutting-edge research equipment
Initiative simplifies sharing of Mines' research equipment across campus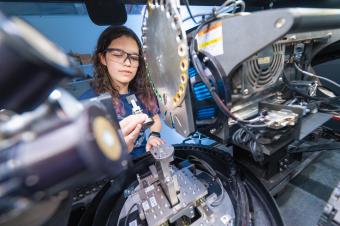 Colorado School of Mines is home to world-class research equipment and instrumentation and the technical experts to run them. Now, that equipment and expertise is available to not only the Mines community but also external partners.
The Office of Research and Technology Transfer has created a Shared Instrumentation Facility (SIF) at Mines. Since launching a little over a year ago, SIF has provided the framework for Mines' research instrumentation to be made available for shared use, giving access to any Mines faculty or student who might need that equipment for their research, as well as academic and industry partners.
"Providing access to the tools that enable research insights and discoveries is central to the advancement of the science and technology enterprise," said Walt Copan, vice president for research and technology transfer. "Through the SIF and its dedicated professionals, Mines supports the efficient availability of leading-edge instrumentation, accelerating research and fueling innovation here on campus."
Currently, Mines' SIF encompasses equipment in the following areas:
Electron and scanning probe microscopy
Mass spectrometry
Mechanical testing
Nanofabrication
Surface characterization
Thin film deposition
X-ray diffraction and computed tomography
X-ray photoelectron spectroscopy
"Mines was recognized as an R1 research university in 2022, and initiatives like SIF are evidence of the quality of work capable of being supported here -- even though we're not as big as other R1 schools," said David Diercks, director of the Shared Instrumentation Facility.
More than 70 instruments are currently included in SIF, with more in the process of being added. Those who currently utilize SIF resources include professors from departments across campus, researchers from 12 other universities, from three government laboratories and  from 28 industrial companies. Access to these instruments is vital to completing important work across multiple disciplines, Diercks said.
"Some of the instruments aren't unique to Mines but are necessary for doing high-quality research. Others are in the more unique and specialized categories and can be difficult or expensive to acquire," Diercks said. "Through SIF, researchers can use this equipment without a long contracting agreement and with pricing in line with the market."
Mines alumni are one group that could stand to benefit greatly from SIF, Diercks said. Many alumni work for smaller companies or for themselves, and SIF gives them access to things their companies don't have and at a reasonable price.
Another advantage to using equipment through SIF is hands-on experience. One common way researchers access instruments like the ones available through SIF is to send their material away to a lab for testing and then wait for results to be sent back. With SIF, researchers can be present for testing, as well as gain first-hand knowledge of how the instruments work.
"Our users can sign up on our website to have a research tech assist in doing the analysis they need or be trained on the instrument themselves," said SIF administrator Anne Steputis. "They're involved in the data collection, and gain expertise that will help them with future projects and grants down the line in their careers."
Mines' SIF is also part of Front Range Core Facilities, a group of public universities across the Front Range that promotes collaboration through the shared use of instruments in the region. Of the universities in the network – Mines, University of Colorado, Colorado State University, University of New Mexico, University of Wyoming and University of Montana – Mines has the smallest student enrollment.
"We'll often have visitors from other universities who see the facilities and instruments we have here, and they're surprised," Diercks said. "They don't expect a school the size of Mines to be so well equipped. Not only do we have high-quality instruments, but we also have a dynamic team of experts constantly working on expanding our capabilities and we expect to only keep growing in the future."