Mines professor contributes to $1M-winning autonomous vehicle for people with physical, sensory disabilities
Mechanical Engineering's Jeff Ackerman performed key technical integration work for team that won U.S. Department of Transportation's Inclusive Design Challenge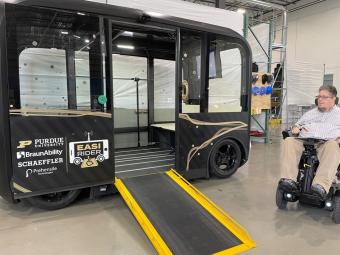 A Colorado School of Mines professor was part of the winning team in the U.S. Department of Transportation's Inclusive Design Challenge.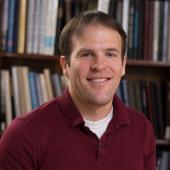 Jeff Ackerman, teaching associate professor of mechanical engineering, and colleagues at Purdue University won $1 million for the EASI RIDER – Efficient, Accessible and Safe Interaction in a Real Integrated Design Environment for Riders with disabilities – an autonomous vehicle (AV) that incorporates universal design features to accommodate people with physical and sensory disabilities.
The U.S. DOT created the Inclusive Design Challenge to spur innovation in automated vehicle accessibility, encourage collaboration, and explore new designs and technologies. The winners of the $5 million challenge were announced this summer to coincide with the 32nd anniversary of the Americans with Disabilities Act.
"The DoT Inclusive Design Challenge was created to proactively design autonomous vehicles with accessibility features from the ground up rather than retrofit existing autonomous vehicle designs to make them accessible. With the EASI RIDER project, my collaborators and I implemented key accessible features that will help wheelchair users and visually impaired users to independently locate, enter, and use an autonomous vehicle," Ackerman said. "We are very excited to win 1st place out of the 10 finalist teams, and the $1M prize will be re-invested in continued development of accessible technologies for AVs."
The EASI RIDER team was led by Purdue's Brad Duerstock, professor of practice in industrial engineering and biomedical engineering, and Brandon Pitts, assistant professor of industrial engineering. The industry collaborators on the project include BraunAbility, Schaeffler-Paravan, and Prehensile Technologies.
EASI RIDER's features include an automatically deploying "Smart Ramp," automated wheelchair docking system, and on-board user-interface that caters to a wide range of disabilities. EASI RIDER can also help users with finding an autonomous vehicle, boarding and exiting the vehicle, securing themselves and their mobility aids, and interacting with the vehicle via touch screen and voice control.
Ackerman, who received his PhD in mechanical engineering from Purdue, performed key technical integration work for EASI RIDER, including writing all the code to integrate the Schaeffler-Paravan mobile app to control the entire system via a standardized vehicle CAN BUS, designing custom sensors and actuation systems, and creating the TV screen-based user interface. He also created the Computer-Aided Design images and animations through his startup, Prehensile Technologies, which is co-owned with Duerstock.
The $1 million in prize money will be reinvested into a new collaborative R&D center for accessible transportation. Ackerman plans to engage Mines students and faculty in this center where industry and university contributors will continue to develop accessible technologies for autonomous vehicles to ensure that the future of transportation is accessible for all.