Mines professor aims to slash additive manufacturing costs, keep printers in U.S.
In Owen Hildreth's lab, 3-D metal parts take a chemical post-processing dip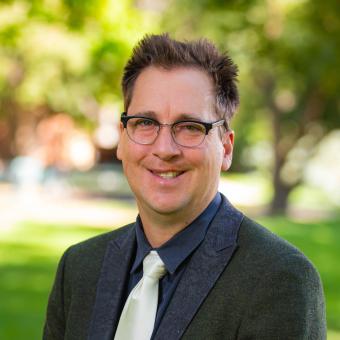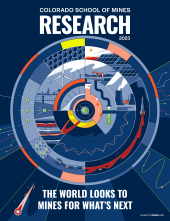 By Ashley Piccone, Special to Mines Research Magazine
In laser powder bed fusion, a 3D printer breaks up the design of a part into horizontal slices. It lays down a bed of powder and traces out an image of each slice with a laser, melting the powder in a specific design. Then the platform drops, spreads another sheet of powder and repeats the process until it builds up the entire object, layer by layer.
Additive manufacturing with processes such as this makes it easier to create complex components quickly and is projected to be a $25-billion-a-year industry by 2025. While it is a relatively inexpensive technique, post-processing makes up 46 percent of the cost on average for a 3D-printed metal part. Much of this comes from labor costs, as supporting material is usually ground or machined off.
Owen Hildreth, associate professor of mechanical engineering, has developed a low-cost chemical post-processing method to cut the cost and time required to get a component to a useable state. We asked him more about this technique and how it could help advance the additive manufacturing industry's prevalence over the next several years.
Why is post-processing so important for 3D-printed materials?
Owen Hildreth: Part of the printing process is creating supports that hold the metal so it can't curl as it cools down. In post-processing, you have to get rid of those supports. Currently, the go-to technology is a set of pliers followed by a Dremel, which is a big pain in terms of manual labor.
You also need smooth surfaces. When you melt a powder, there's going to be a line where the powder is fully melted on one side and the other side where it's just a little bit melted. You end up with these little balls of powder stuck on the surface that increase the roughness. Instead of a machined part that might last 10 years, you might have something that lasts a couple weeks because of that rough surface. So, you have to smooth those surfaces. With a simple geometry, you can just hit that with some sandpaper. But with really complex shapes, it's hard.
How does your chemical post-processing method work?
Hildreth: The trick is removing just the supports without changing the overall geometry of the part. The entire part and supports are printed with the same material. After the part is printed, we dip it in a sensitizing agent. When you pull it out, the fluid leaves a coating on all the surfaces and all the supports.
Then you go through a heat treatment step. The sensitizing agent decomposes and diffuses into the top hundred microns of the surface, changing the composition. I've chosen the sensitizing agent so that when it diffuses and changes the composition, it makes a really bad metal that can dissolve in, essentially, tomato juice. We dissolve away the supports, which are really thin, and the surface of our structure only loses a little bit of material. So, what we have is a self-terminating etching process.
What impact could this method have for the future of additive manufacturing?
Hildreth: What I think is exciting is the idea of supporting manufacturing in the U.S. For example, a company printing a bunch of parts and sending them elsewhere for post-processing will eventually just start printing elsewhere too. With this technology, there's almost no manual labor. By getting rid of that cost, we can keep the printers and the manufacturing in the country.