Mines PhD candidate honored at SPIE Photonics West conference
Daniel Scarbrough, PhD candidate in applied physics, was runner up for the 2023 JenLab Young Investigator Award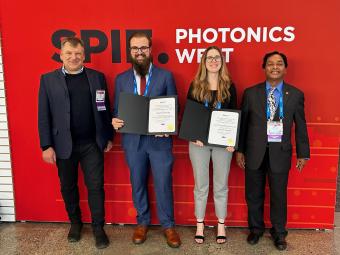 Daniel Scarbrough, a PhD candidate in applied physics at Colorado School of Mines, was named runner up in the JenLab Young Investigator Award at SPIE Photonics West.
Photonics West is the largest annual conference in optics in North America, featuring the latest in optical research, including biomedical optics, biophotonics, industrial lasers, optoelectronics, microfabrication and quantum technologies. The 2023 conference was held in February in San Francisco.
The Young Investigator Award was given as part of Photonics West's Multiphoton Microscopy in the Biomedical Sciences XXIII conference. Competitors submitted papers on their research, which, along with a poster session and high-speed six-minute presentation, were judged by a panel of topic experts.
Scarbrough's winning paper was titled, "Enhanced Resolution Dispersion Optimized Multiphoton Microscopy with Spatial Frequency Modulation Imaging."
"In multiphoton microscopy, ultrafast pulses of light are needed to produce fluorescent light in small volumes on specific structures – which is especially helpful in biological and medical research," Scarbrough said. "But the glass in a microscope stretches these pulses in time, making the fluorescence less efficient. By modulating the wavelength domain of the light with SPIFI, we demonstrate a tool that is easy to use and can rapidly aid in optimizing a compensator to counteract this stretching."
Scarbrough holds a B.S. in engineering physics and computer science from Mines. His PhD advisor is Physics Professor Jeff Squier.