Mines PetroBowl team qualifies for international championships
The Society of Petroleum Engineers student competition is "like 'Jeopardy!' but for petroleum engineers."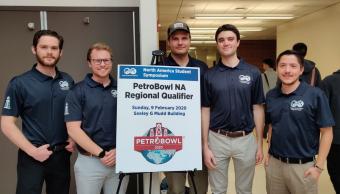 Colorado School of Mines is going to the 2020 PetroBowl Championship.
A team of five Mines undergraduates and one PhD student placed fourth in the North American PetroBowl Regional Qualifier earlier this month in Los Angeles, earning one of five spots for U.S., Canadian and Mexican teams in the global finals of the quick-fire quiz competition.
The PetroBowl is the largest student competition hosted by the Society of Petroleum Engineers (SPE). The championships take place at the SPE Annual Technical Conference and Exhibition, this year set for Oct. 5-7 in Denver.
"It's like home turf," said team co-captain Niels Snow, a junior majoring in petroleum engineering. "We wanted to make sure, especially since we're here in Denver, that we were there representing our school."
Rounding out the Mines team were PhD student Deep Joshi, sophomore Will Benson, freshman Nicholas Bryan and junior Eduardo Mendoza-vega. Sophomore Ethan Anderson was the team alternate.
"We are pretty satisfied with the result," Snow said. "Our team this year is mostly undergrads – a lot of the teams bring a couple of PhD students who are wizards about everything. We had to put in a little extra effort."
That effort included meeting at least once a week leading up to the regional qualifier to study and practice. Quiz questions cover a wide variety of topics related to exploration and production, including SPE history, oil and gas terminology and industry statistics.
A Mines team last won the PetroBowl in 2013. Mines also took home first place in 2012 and 2006. The PetroBowl was founded in 2002 and became a fully global event in 2015.
"It's like 'Jeopardy!' but for petroleum engineers," Snow said.