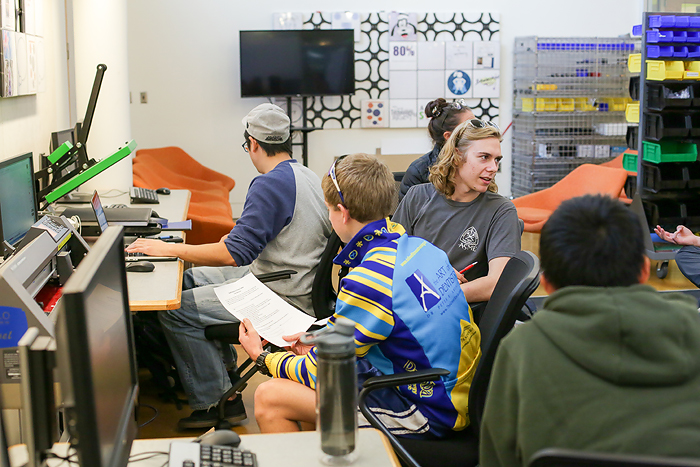 Members of Mines Maker Society working in the new Blaster Design Factory.
Imagine three students who meet in their first-year Design EPICS course. They have different majors but share the same passion for creating and entrepreneurship. Even with busy schedules, they are sure if they just had the space and access to equipment, they could make one of their ideas a reality. They could build it if they just had…a makerspace.
Mines College of Engineering and Computational Sciences Dean Kevin Moore has been a staunch advocate for more design and fabrication spaces for students. "Recently, colleges and universities have recognized the importance of hands-on, active learning experiences in the development of engineers and scientists," said Moore. "Students gain some of those experiences in classes, but it is also valuable for them to have the opportunity to work on building prototypes of their ideas in an extracurricular setting."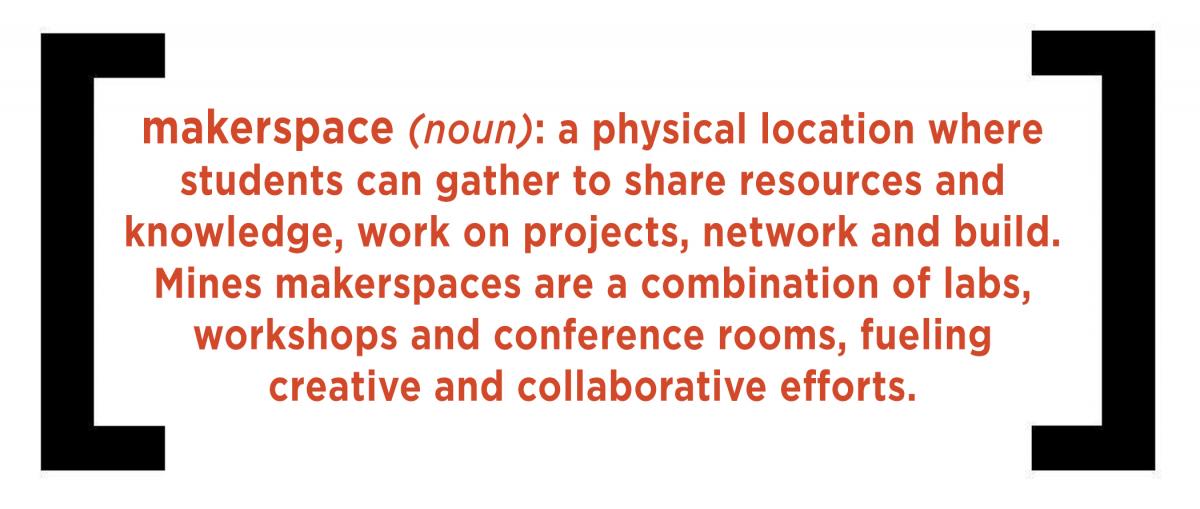 Three new makerspaces opened this semester: Blaster Design Factory in Brown Hall, Digger Design Lab in the Engineering Annex, and the adjoining EPICS woodshop. It was a collaborative effort to establish and upgrade several makerspaces, with student help coming from the University Innovation Fellows, the Maker Society, the Entrepreneurship Club, The Blaster Hackers club, the Creative Arts club and faculty support via the Pathways to Innovation group, as well as donors and administration.
While Mines students have had access in the past to makerspaces such as the foundry in Hill Hall or the garage and machine shop in Brown Hall, the new spaces are unique in that they provide a place to explore design and plans.
"Blaster Design Factory is the ideal place to start your project," according to Frank Musick, a graduate student in Engineering and Technology Management who started the Maker Society while earning his undergraduate degree in Mechanical Engineering at Mines. "It's really the hub for all the other makerspaces, and it is the only one that is student-run and with 24/7 access."
Located on the second floor of Brown, Blaster Design Factory has a vinyl cutter, a heat press and rapid prototyping supplies. A 3-D printer is on order. "We purposefully started small," explained Musick. "The goal has never been to just set up a lot of stuff and call it done. We want to see the space grow based on student demand and use. The emphasis right now is on the design process. We have white boards and design software such as AutoCAD, SolidWorks and the full Adobe Suite. Just having full admin rights to be able to download open-source design software makes a big difference."
The Digger Design Lab offers a different kind of space that is more focused on fabrication and assembly. The Maker Society held an early opening during Homecoming weekend to announce the spaces, and plan to provide more tours and training in January.

The Woodshop and Digger Design Lab at the Engineering Annex.
"Shared spaces are built on trust," said Musick. "We all have a vested interested in making things that do things. The space isn't going to meet every need, but it is a huge step for innovation at Mines and part of an even grander vision."
Moore sees the new makerspaces as a way to "stimulate innovation and support the efforts of budding student entrepreneurs. We are very excited to see this new resource used by our students."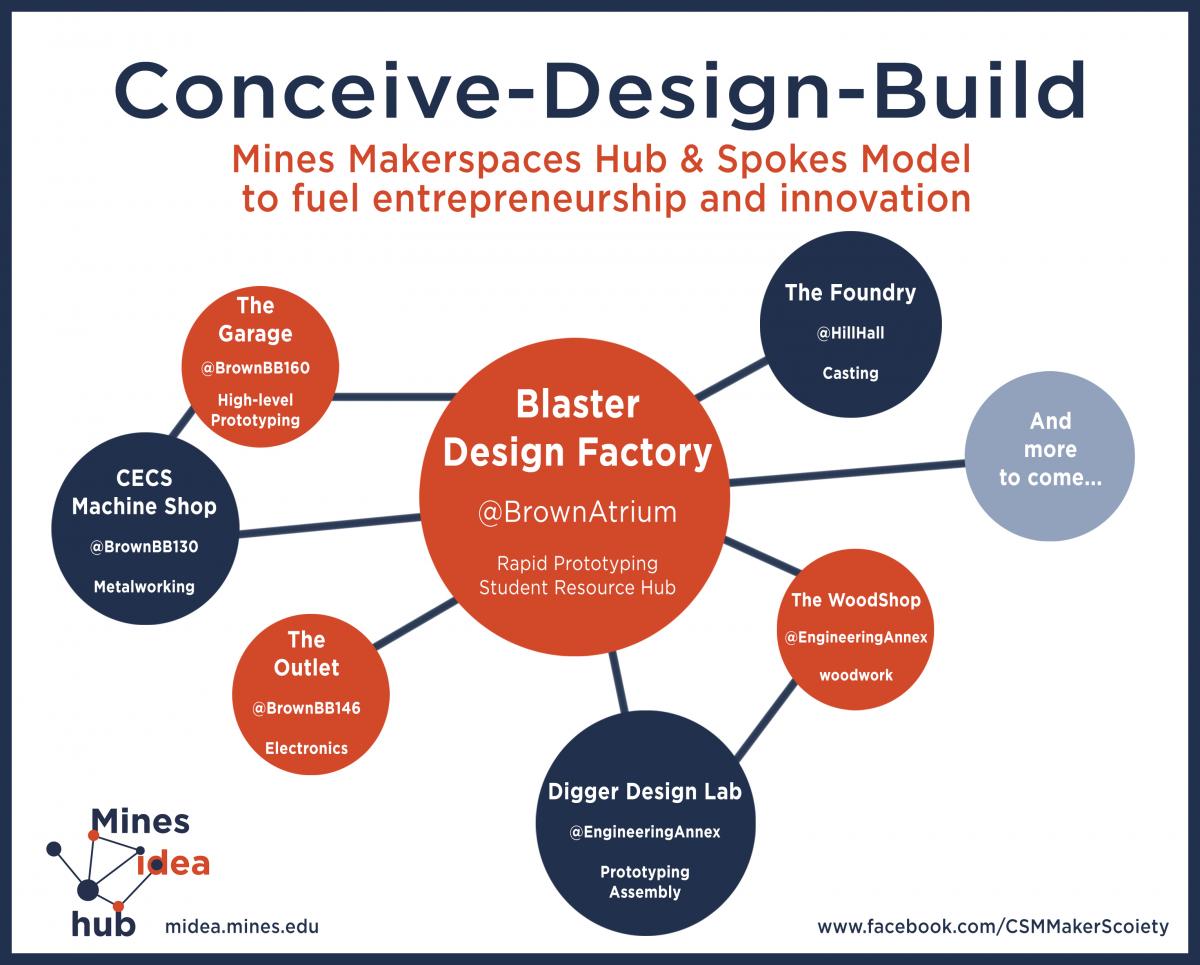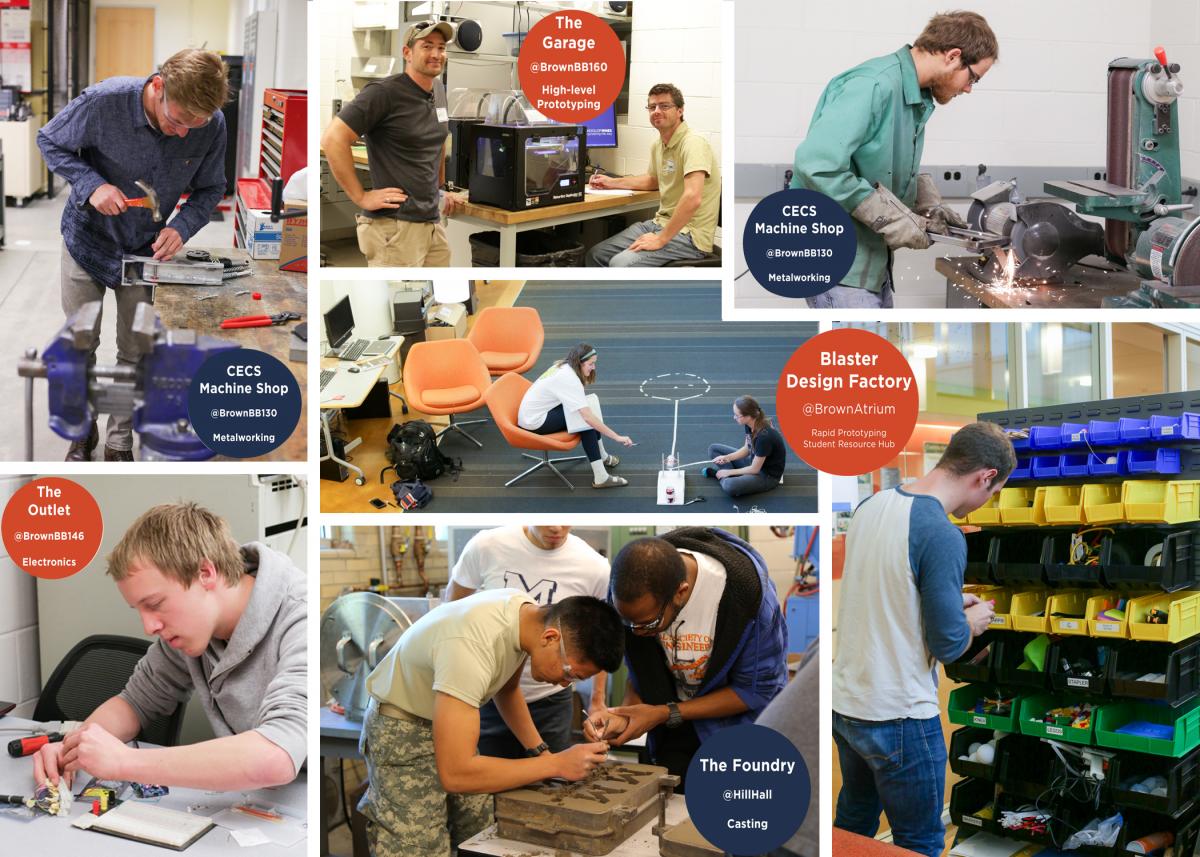 On November 29, #GivingTuesday, Mines Foundation will aim to raise $3K for Mines Makerspaces in one day so students have the latest tools and technology to roll up their sleeves and make something amazing. Makerspaces provide an environment for students to collaboratively learn skills to construct and prototype their innovative ideas.
Your support will help expand and outfit these spaces allowing students to free-form creativity and learn skills like drilling, woodworking, welding and sewing. Learn more at Outfit Mines Makerspaces
Contact:
Deirdre Keating, Communications Manager, College of Engineering & Computational Sciences | 303-384-2358 | dkeating@mines.edu
Anica Wong, Communications Specialist, CSM Foundation | 303-273-3904 | acwong@mines.edu