Mines librarian wins Fulbright to teach in China
Brianna Buljung will spend the Spring 2021 semester at China University of Mining and Technology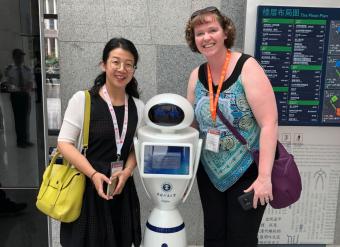 A librarian at Colorado School of Mines has been awarded a Fulbright U.S. Scholar grant to travel to China.
Teaching and Learning Librarian Brianna Buljung will lecture next year at China University of Mining and Technology (CUMT) in Xuzhou, which has had a sister library relationship with Arthur Lakes Library since 2018, as part of her project to assist Chinese graduate students in navigating the complexities of conducting academic research in the international research community.
The Fulbright Program is the U.S. government's flagship international educational exchange program, designed to build lasting connections between the people of the United States and other countries. Recipients of Fulbright awards are selected on the basis of academic and professional achievement, as well as their record of service and demonstrated leadership in their respective fields.
Buljung, who was part of the Mines library delegation that traveled to CUMT in 2019, said she is honored to have the opportunity to spend an entire semester teaching and collaborating with her Chinese peers in the library sciences.
"I'm really interested in looking at how they teach students to conduct research and how it compares to how we teach students at Mines. We're very similar schools with the STEM focus," Buljung said. "The Fulbright will be a great opportunity to learn a lot from them and see how we can improve our own instruction since we have many international students here at Mines."
At CUMT, Buljung will teach a graduate-level course for students in library sciences that focuses on information seeking, information literacy skills and the research life cycle – the same topics she partners with Mines faculty to incorporate into courses here in Golden.
"Chinese universities are really interested in the whole research life cycle –conducting research, managing data, creating your scholarly identity," Buljung said. "The goal is to get junior faculty published in Western academic journals. By teaching their students the skills they need, it will help them further those career ambitions."
Given the uncertain travel situation surrounding the global COVID-19 pandemic, Buljung said she likely won't know for certain that her trip is confirmed until late fall. She is scheduled to be in China from February through June 2021, the spring semester starting slightly later there, after the Lunar New Year.
"We're all very proud of Brianna's selection for this prestigious program," said Carol Smith, university librarian at Mines. "Only 400-500 scholars are selected every year, and Brianna will be just the fourth Colorado librarian to serve as a Fulbright Scholar since 2006 and the first in East Asia."