Mines launches new research center with Peruvian partner university
The Center for Research in Sustainable Resources will bring together researchers from Mines, Universidad Nacional de Trujillo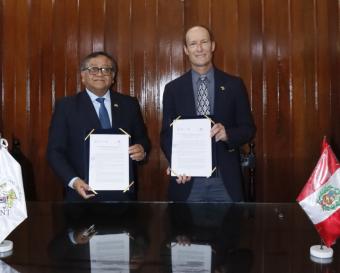 Colorado School of Mines is pleased to announce a new partnership with the Universidad Nacional de Trujillo (UNT), located in Trujillo on the Pacific coast of northwest Peru.
The leaders of both universities held a signing ceremony for this new collaboration agreement on May 9 to establish the Center for Research in Sustainable Resources (Centro para Investigación en Recursos Sostenibles) and to begin the first phase of collaborative research projects involving research teams and students based in the U.S. and in Peru.  
Three Phase I projects totaling $1.1 million in research funding were selected based on impactful new science, value to the Trujillo region and the potential for building research capacity in Peru through the UNT partnership. Since 2018, Mines has had a productive series of research and educational relationships in Peru, a nation representing a key hub for mining and critical minerals globally.
"The unique collaborations between Colorado School of Mines and the Universidad Nacional de Trujillo represent an important synergy benefiting the people of Peru, the United States and partners in the hemisphere for critical materials and resource sustainability," said Dr. Walter Copan, vice president for research and technology transfer at Mines. "As the world's top-ranked university for mining and minerals engineering, Mines is a partner of choice not only to help address the needs of research and workforce development, but also to advance equity and societal benefits in Peru and in the other nations where we work."
The first Mines-UNT research project, directed by Richard Krahenbuhl of Mines, will use novel applications of geophysical techniques to identify and map buried archeological areas at the Huacas de Moche historic site.  Located between an excavated temple and palace, the study area is expected to reveal an extensive residential center from the Moche culture, a civilization that flourished in this region of Peru between about 100 to 750 AD.
The second project, led by Mines' Johan Vanneste, will develop a reverse osmosis water purification system with automated scaling prevention to recycle gold mining wastewater without the use of chemicals.  Providing the combined benefits of reducing environmental contamination and conserving water for reuse, the project tackles the difficult problem of membrane destruction by gypsum crystals in high sulfate water, a common challenge for reverse osmosis systems that treat mine wastewater.
The third project is headed by Mines' Reza Hedayat and will characterize mine tailings waste at several locations in the region, with the goal of reusing these tailings in lightweight construction aggregate, ceramic tile production and as Portland cement replacement.  The project will establish methodology and laboratory testing data for materials derived from small- and medium-scale mining operations. This foundational work is also intended to enable industrial operations in Peru to then develop their own systems, reducing tailing waste using chemical processes that also immobilize metals from leaching, thereby also reducing water pollution. 
The Mines-UNT partnership was launched in June 2021 with a pilot research project funded by a donation from Newmont Corporation to characterize mine tailings for conversion to construction materials, and the early successes of this work inspired UNT to provide financing for the new center.  
"We are extremely grateful to Newmont and their efforts to build scientific partnerships in the region, and after a year of exchanging visits and field work and lots of online meetings, both universities are already comfortable working together," said Paul Santi, director of the center and professor of geology and geological engineering at Mines.
The Center for Research in Sustainable Resources will be managed under the Mines Institute for Initiatives in Latin America (IILA), which already has a track record of $15 million in research contracts and collaborations in Peru over the last three years, primarily through the Center for Mining Sustainability with the Universidad Nacional de San Agustín de Arequipa.  Involving more than 40 Mines faculty and researchers, IILA equips Mines with the cultural and administrative resources to build research connections and serve the populations of Latin America through applied research and education.