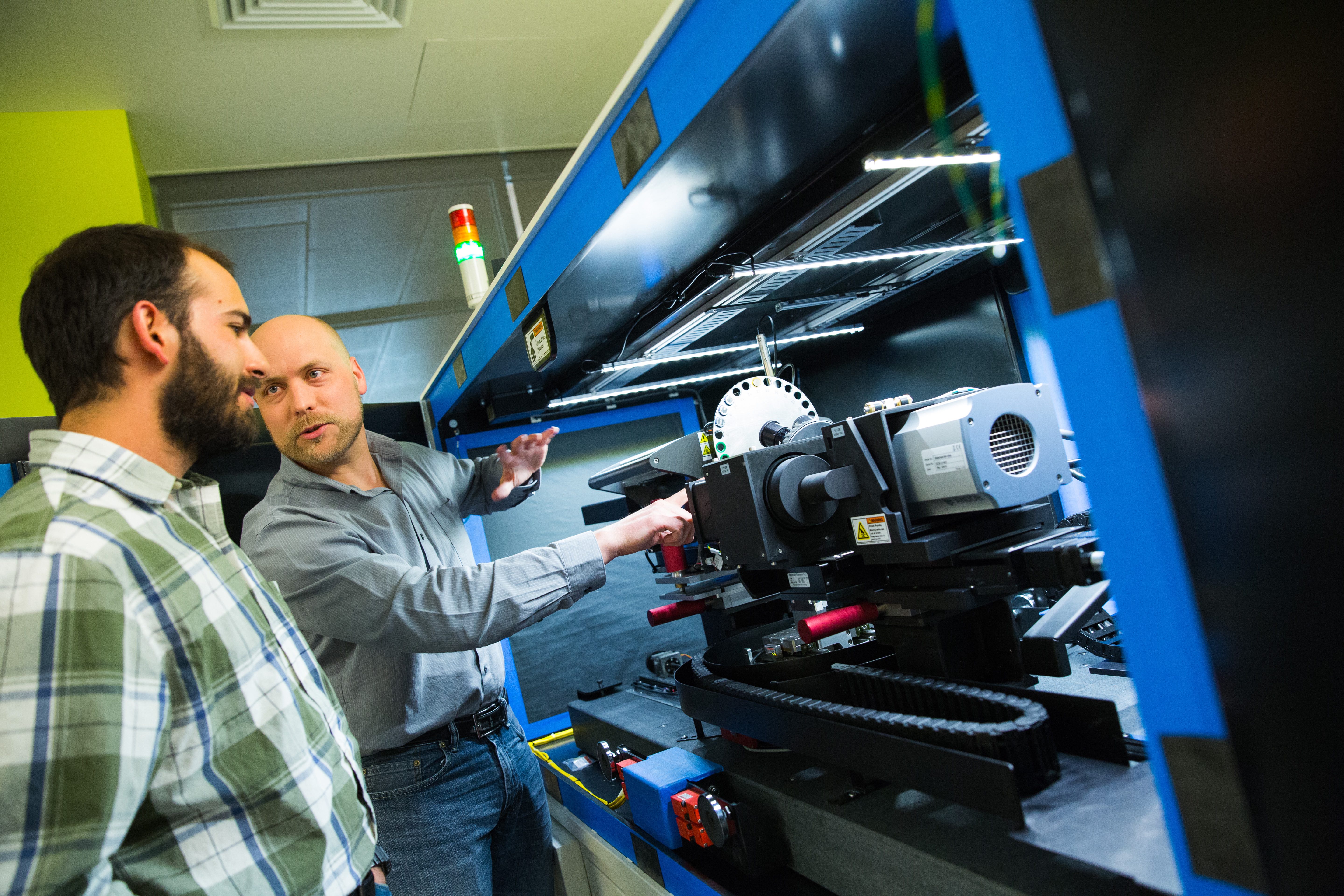 A new interdisciplinary professional degree program at Colorado School of Mines will provide engineers with the knowledge and skills needed to drive the next generation of technologies and products in the transformative and fast-growing field of advanced manufacturing. 
Beginning fall 2018, Mines will be among the first universities in the U.S. to offer graduate-level degrees in advanced manufacturing. Both professional graduate certificates and non-thesis master's degrees will be available. Undergraduate students will also be able to pursue a minor or area of special interest. 
"The demand for engineers with knowledge in advanced manufacturing, especially in the areas of additive manufacturing and data-driven process design and optimization, continues to grow as these technologies rapidly mature in the aerospace, automotive, defense, biomedical and energy industries," said Aaron Stebner, Rowlinson Associate Professor of Mechanical Engineering and director of the Alliance for the Development of Additive Processing Technologies (ADAPT) at Mines. "We have offered an introductory course in additive manufacturing three times, and almost every student who has taken that course and wants to work in additive manufacturing gets a job locally –  and we still get calls from companies looking for more people." 
Building on Mines' core strengths and capabilities in mechanical engineering, metallurgical and materials engineering, computer science, electrical engineering, physics and applied mathematics and statistics, the interdisciplinary program will center on four signature courses. The courses will explore the emerging technology of additive manufacturing, also known as 3-D printing; solid materials used in additive manufacturing and the physical models for processing them; how to design parts specifically for additive manufacturing processes; and the foundational principles of statistical modeling and machine learning for the purpose of optimizing materials for manufacturing processes and optimizing manufacturing processes for specific parts. All four of the courses will be taught in the early morning or late afternoon/evening to accommodate working professionals, with the goal of offering the classes online in the future. 
"What distinguishes our advanced manufacturing program is its focus on data-driven materials manufacturing –  bringing machine learning to materials manufacturing – as well as additive manufacturing of solid materials like ceramics and metals, as opposed to polymers," Stebner said. "Both focus areas build on our existing strengths here at Mines - ceramics and metallurgy are what Mines is known for in materials science, and the data-driven side of things is coming from our R&D successes at ADAPT. We're excited to bring that to an educational curriculum for professionals."
Strong industry connections will be an important part of the program, with local professionals interacting with students and coming into the classroom to help teach parts of the curriculum. Master's students will have the option of being placed with local companies over the summer, receiving up to six credits for the hands-on, in-the-field experience. 
"We are very excited about this new educational program at Mines, especially the focus on additive manufacturing, which is revolutionizing how we make the things that advance our quality of life," said Kevin Moore, dean of the College of Engineering and Computational Sciences at Mines. "This program will enable us to expose students to both the fundamental science and the cutting-edge techniques that will enable them to go out and hit the ground running in this important new field."
In conjunction with the program launch, Mines will also open a multimillion-dollar, state-of-the-art laboratory for advanced manufacturing education. The lab will house both commercial equipment and machines designed specifically for learning advanced manufacturing, the latter allowing students to watch the manufacturing process in real time and experiment with different materials and methods.
"These efforts are contributing toward building a Mines signature presence and national recognition in this important growth area," Interim Provost Tom Boyd said.
CONTACT
Emilie Rusch, Public Information Specialist, Communications and Marketing | 303-273-3361 | erusch@mines.edu
Mark Ramirez, Managing Editor, Communications and Marketing | 303-273-3088 | ramirez@mines.edu