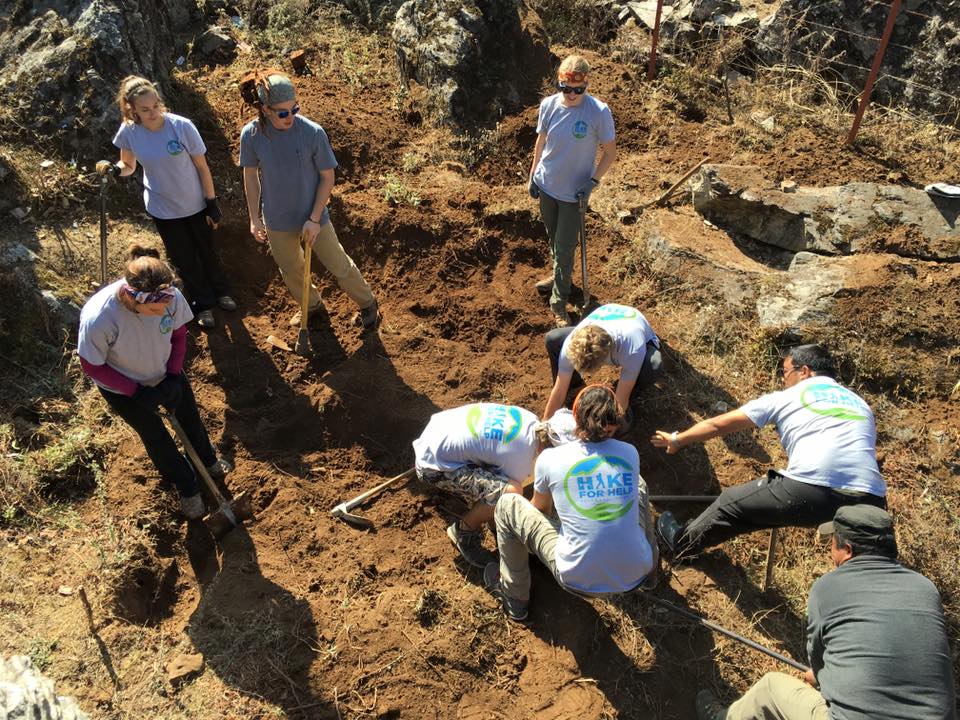 Mines students volunteering as part of Hike for Help.
This winter break, 16 Mines students will spend their three-week vacation volunteering in Khumbu Valley, Nepal, constructing a public restroom facility for the local community and aiding in repairing the local high school that was destroyed in an earthquake in 2015. Mines is partnering with Hike for Help, an organization that connects with communities in Nepal to work on projects that will have a high impact on the Nepali community.
"There are no public restrooms in the Khumbu Valley, which is the trail that leads to Everest," said Rachel Osgood, an assistant teaching professor in Mines' Liberal Arts and International Studies Division. "The people that live there have pit toilets and no sanitation system, so they don't drink enough water because they don't have anywhere to go to the bathroom."
Osgood, who will lead students on this international service learning trip, recalled how the founder of the Hike for Help organization, Lhakpa Sherpa, also the owner of the Sherpa House restaurant in Golden, Colorado, was struck by students' reactions to the pit toilets on a previous community service trip. "Sherpa got together with other local leaders in the Lukla and Khumbu Valley regions and talked about how beneficial [constructing a public restroom facility] would be for the people of the area, particularly in terms of tourism," said Osgood. The Nepali community agreed that this would be a valuable addition, giving the project a green light.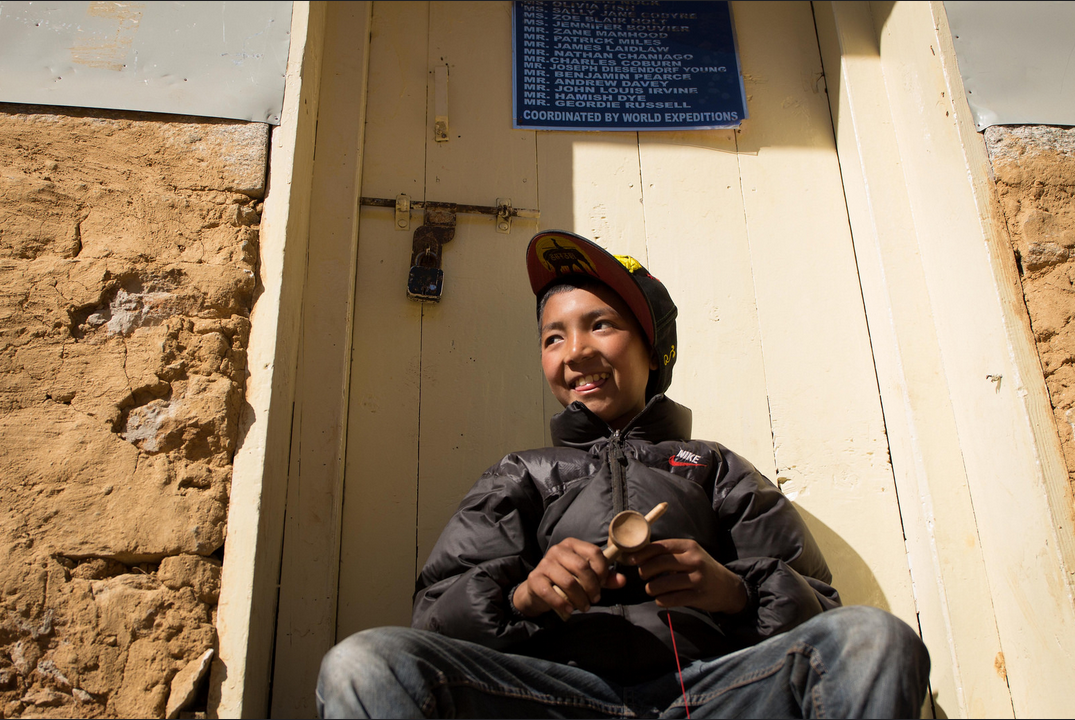 A young boy playing with his kendama in Nepal.
When approached to help with this project, Mines reacted without hesitation, and the community service trip filled up quickly, mostly with McBride Honors students who are eager to travel to Nepal and make a difference. "I am most looking forward to returning to the area that I helped support with Hike for Help last winter," said chemical engineering student Chase Li. Engineering physics student, Peter Consalvi added, "To go over there and build (from scratch) a restroom that is going to greatly benefit the valley, we have a great chance to really help someone."
But this service trip will have many benefits for Mines students as well. Trinity Wilson, a chemical engineering student, admitted, "This experience [will be] far out of my comfort zone; it will take me further from the things and people I depend on and challenge me mentally and physically to face my fears."
Since the students are required to cover their own travel expenses, all of the fundraising will be put towards the service project—the materials and labor. "It's pretty expensive, because the cement has to be transported up the valley and the only way to get there is by walking with some yaks or flying in a really small passenger plane," explained engineering physics student Matthew Kowalsky.
The eventual goal is to build 40 of these restrooms within the next few years throughout the valley. Osgood added, "We want to make this a sustainable relationship between our community and the community in Nepal, because we have a local connection and it hits close to home.
Check out the video below for more information about Hike for Help:
https://youtu.be/iDriqFNG6EE
To support Hike for Help in its fundraising efforts to obtain supplies to help local citizens of the Khumbu Valley, visit giving.mines.edu/goldmine.
Contact:
Leah Pinkus, Communications Assistant, Colorado School of Mines | 303-273-3088 | lpinkus@mines.edu
Ashley Spurgeon, Editorial Assistant, Mines magazine | 303-273-3959 | aspurgeon@mines.edu