Mines graduate student wins Marie Sklodowska-Curie Fellowship
Rebekah Moline is one of 100 graduate students worldwide to win the competitive International Atomic Energy Agency scholarship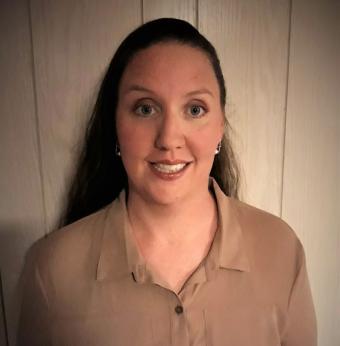 A master's student in the Nuclear Science and Engineering Program at Colorado School of Mines has been awarded a Marie Sklodowska-Curie Fellowship from the International Atomic Energy Agency.
Rebekah Moline is one of 100 graduate students worldwide to win the competitive scholarship, which covers up to two years of tuition and living expenses for female students in the nuclear field. Fellows also get the opportunity to pursue an internship with the IAEA for up to 12 months.
Named after pioneering physicist and Nobel Prize laureate Marie Sklodowska-Curie, the international program aims to help grow the number of women in the nuclear field, supporting an inclusive workforce of both men and women who contribute to and drive global scientific and technological innovation.
A nontraditional student and mother of two, Moline started her higher education journey at Red Rocks Community College before transferring to Metropolitan State University of Denver, where she graduated with a bachelor's degree in physics. She chose Mines for her master's degree specifically because of its nuclear engineering program, the only one in the state of Colorado.
"The slow process of getting a degree going half-time, sometimes less, through my journey I discovered a love for physics and specifically an interest in energy production and conversion. I knew by the conclusion of my undergraduate studies that Nuclear Energy is the low carbon future of energy and I wanted to be part of the production of that energy source," Moline said. "I want to make a better future for my kids and a better world for future generations and contribute to a viable solution to climate change."
The Marie Sklodowska-Curie Fellowship will allow Moline to focus more time on her graduate studies – and less time on working – as well as giving her the opportunity to interact with others who are just as passionate about nuclear processes, technology and engineering as she is.
"I look forward to the opportunity for an internship at IAEA – my reading on the organization shows that they do a very good job of bringing nuclear energy into the mainstream and show people that it is a low-carbon energy source," Moline said. "I hope I can be a good ambassador for Mines and the United States at the IAEA as well as help to bring attention at Mines to safe, secure and peaceful uses of nuclear technologies."
Established in 1957, the IAEA is the world's central intergovernmental forum for scientific and technical co-operation in the nuclear field. It works for the safe, secure and peaceful uses of nuclear science and technology, contributing to international peace and security and the United Nations' Sustainable Development Goals.