Mines faculty member testifies before U.S. House committee on critical minerals
Dr. Roderick Eggert spoke on critical minerals and the USGS Critical Minerals List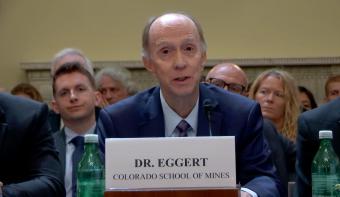 Dr. Roderick Eggert, Viola Vestal Coulter Foundation Chair in Mineral Economics and Deputy Director of the Critical Materials Institute, testified today before the U.S. House Natural Resources Subcommittee on Energy & Mineral Resources on critical minerals and the structure and role of the U.S. Geological Survey's critical minerals list.
As the United States rapidly accelerates its transition to a clean energy future, there is a growing focus on the role of critical minerals, many of which are mined, processed, and transported around the globe through complex supply chains. In response, the U.S. Geological Survey and other federal agencies produce assessments of mineral and material criticality to identify supply vulnerabilities and inform government policies and private sector decisions.
"Critical minerals support all aspects of our lives, including our energy systems, the economy and national security," said Dr. Eggert. "Critical mineral lists are important tools that must be thoughtfully understood and carefully considered in context to advance the priorities of our country. The danger of viewing a list of minerals or materials that are designated either critical or not critical is to obscure the complexity of criticality. The U.S. Geological Survey list should inform but not determine public policy."
Introducing Dr. Eggert, Subcommittee Member Congressman Doug Lamborn (CO-5) commented, "Colorado School of Mines is a leading center for education for geology and mining engineering and represents the foremost level of academia in this industry. They are on the cutting edge of mineral and mining innovation and are training the next generation of leaders in the mining industry, which we know is sorely needed."
Colorado School of Mines is a public R1 research university and leading institution on the full mining and mineral lifecycle– from community engagement, exploration, extraction to minerals and metals processing and recycling. Mines is home to the No. 1 mineral and mining engineering program in the world, according to the 2023 QS World University, and to the only mineral and energy economics program in the United States.
"Colorado School of Mines is a trusted resource to Congress and policymakers, and I'm pleased to provide help so that our policymakers understand the complexity of critical mineral supply chains and their importance to our nation's priorities," said Dr. Eggert.