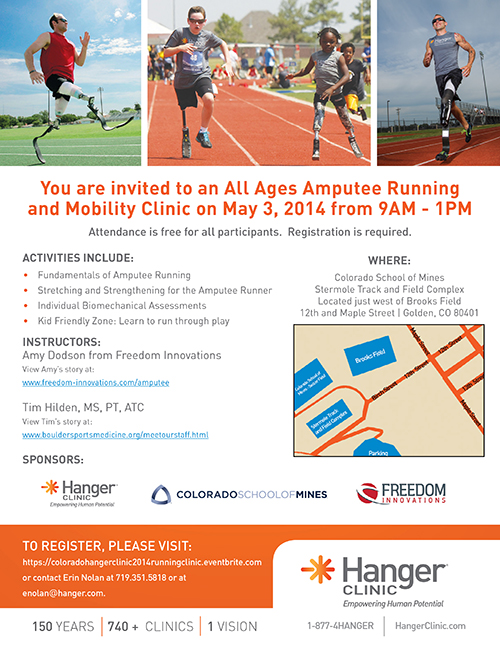 GOLDEN, Colo., April 23, 2014 – The Colorado School of Mines Center for Biomechanics and Rehabilitation Research, along with Hanger Clinic and Freedom Innovations, will hold a free, all-ages running and mobility clinic for amputees May 3 from 9 a.m.- 1 p.m. at the Stermole Track and Field Complex adjacent to the Mines campus in Golden.
Activities will include learning the fundamentals of amputee running, stretching and strengthening for the amputee runner, individual biomechanical assessments and a kid friendly zone. Participants can interface with coaches and meet potential training partners.  
The Center for Biomechanics and Rehabilitation Research (CBRR) at Mines aims to develop innovative solutions for musculoskeletal disabilities, a vision in line with that of Hanger Clinic and Freedom Innovations, companies that specialize in prosthetic devices.
"We hope this partnership will lead to future collaborative projects, including potential student design projects, biomechanical research studies and future health and mobility events," said Anne Silverman, Mines assistant professor in mechanical engineering and a primary faculty member in the CBRR. "Mines students, including graduate and undergraduate students in biomechanics, plan to volunteer at the event. We expect they will come away with a greater appreciation for the impact of their work in biomechanics on human health."
Instructors include amputee and world-record marathon runner Amy Dodson and physical therapist and athletic trainer Tim Hilden, from the Boulder Center for Sports Medicine.
Contact:
Karen Gilbert, Director of Public Relations, Colorado School of Mines / 303-273-3541 / kgilbert@mines.edu
Kathleen Morton, Communications Coordinator, Colorado School of Mines / 303-273-3088 / kmorton@mines.edu