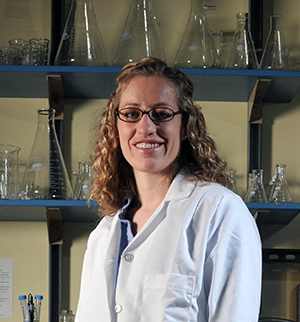 GOLDEN, Colo., June 3, 2013 – Melissa Krebs, assistant professor of Chemical and Biological Engineering, has been selected as a 2013 Boettcher Investigator, for her research regarding "Controlled Delivery of Therapeutics from Biopolymer Systems."
She joins seven other early-career scientists selected for the 2013 Class of Boettcher Investigators in the Webb-Waring Biomedical Research Program.
The Webb-Waring Biomedical Research program fills an unmet need in the state by assisting early-career investigators engaged in biomedical sciences to advance their research. The program honors the tradition of Colorado's Webb and Waring families by investing in science that has the possibility of making significant contributions to human health.
With the addition of the 2013 Class, there are now 22 Boettcher Investigators conducting research in the following Colorado institutions: University of Colorado Anschutz Medical Campus, University of Colorado Boulder, Colorado State University, National Jewish Health and Colorado School of Mines. All grant awards are $225,000.
Early-Career Investigators are faculty members who are four years or less from their first academic appointment at a research institution. The grants awarded by the Webb-Waring Biomedical Research Program support the work of the promising ECIs in Colorado. Eligible investigators apply through a competitive process within their respective institutions.
The Boettcher Foundation announced the creation of the program in 2008, as the result of an innovative agreement between the Boettcher Foundation, the Webb-Waring Foundation for Biomedical Research and the University of Colorado. Through the program, Boettcher Foundation now invests more than $1.5 million each year into efforts to increase Colorado's competitiveness in biomedical science.
For additional information, see the Boettcher Foundation website.
Contact:
Karen Gilbert, Director of Public Relations, Colorado School of Mines / 303-273-3541 / KGilbert@mines.edu