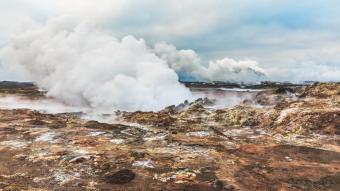 Colorado School of Mines researchers have been awarded $6.3 million by the U.S. Department of Energy to develop and demonstrate a potentially transformative system to harness and distribute geothermal energy.
Led by William Fleckenstein, Director of Strategic Business Development in Global Initiatives and Professor of Practice in Petroleum Engineering, the Mines team will build and test tools for harvesting geothermal energy using an Enhanced Geothermal System (EGS) based on existing Mines-patented technologies for multistage hydraulic fracturing. 
"Geothermal has the potential to revolutionize renewable energy, but to achieve that promise, we need better ways to build the subsurface heat exchanger," Fleckenstein said. "In states like California, where 10 percent of the state's renewable electric power comes from geothermal, there is easy access to extremely hot geothermal energy. Drilling down vertically near the Salton Sea, for example, temperatures reach 650 degrees Fahrenheit a mile down. Here in Colorado, there are similar but cooler geothermal opportunities, the reason we have natural hot springs at places like Idaho, Glenwood or Pagosa Springs."
A 2006 report by MIT and funded by the U.S. Department of Energy conducted the most comprehensive analysis to date on the potential and technical status of EGS. This report calculated the U.S. total EGS resources from 3 to 10 kilometers of depth to be over 13,000 zettajoules, of which over 200 ZJ would be extractable, with the potential to increase this to over 2,000 ZJ with technology improvements — sufficient to provide all the world's current energy needs for several millennia.
"Horizontal wellbores, like the ones used in shale development, may be the answer to make geothermal a viable energy source in other areas," Fleckenstein said. These can be several miles long, with 100 or more sleeves to construct a sub-surface heat exchanger that creates a fracture system between wells, using the sleeves first for multistage fracturing to create the fracture system.  Then the sleeves can be opened and closed to ensure the injected water goes where the heat is.  Cold water is pumped in, and the system is controlled to make sure the water does not short circuit between wells, but instead acts to harvest the entire area's heat. With injection and take points in the parallel wellbores, each pair would act like its own small EGS system, thus allowing the geothermal heat to be harvested and transferred to power plants from the entire system.
"You need something that allows you to harvest from nature," Fleckenstein said. "Everywhere in the world, you have heat at some depth in between us and the Earth's core. If you can drill inexpensively enough, you can access that energy, but you need the EGS system with the ability to harvest the heat and bring it back."
"Once the project is proven successful, the next step is more research to do it deeper, faster and cheaper. That would make geothermal a practicable energy source for more places in the United States than most notably California.  Geothermal potential is worldwide - the Earth's heat is everywhere below us." Fleckenstein said.
Subcontractors on the project, Tejas Research and Engineering and KSWC Engineering and Machining, have world-wide reputations in tool design and machining, and will assist in designing and building the tools necessary for the construction of the subsurface heat exchanger.
"Mines facilities like the Apache Drilling Research Lab, Geomechanics Lab, Hydraulic Fracturing Lab, the Edgar Experimental Mine and several machine shops make Mines an ideal place to test prototypes for this project. "Getting this large award for geothermal EGS can hopefully attract funding to tackle other parts of the problem, like finding faster ways to drill," Fleckenstein said.  "Geothermal power does not rely on the sun to shine or the wind to blow, and its very nature makes it unlikely to freeze in the dead of winter."