Mines alumni use engineering background to restore historic house
The Oshkosh, Wisconsin home was originally built for William H. Doe, a prospector who made his fortune from silver found in Central City, Colorado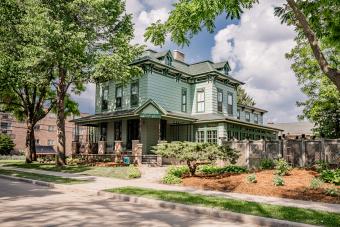 By Ashley Spurgeon, Editor, Mines Magazine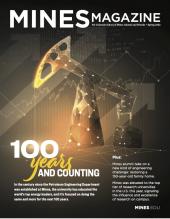 In the past couple of years, it's been common to try out some new do-it-yourself home projects or even some larger-scale renovation projects. Maybe you decided to hammer out a new deck to give yourself a more enjoyable outdoor oasis or perhaps you updated your home office while working more hours from home. But while the rest of us were figuring out which paint colors worked the best in our updated spaces, Becky Brown '92 and Paul Williams '89 were finishing up a much bigger—and much more complex—project.
Back in early 2018, a historic house built in 1869 went up for auction in Oshkosh, Wisconsin. The house was originally built for Oshkosh resident William H. Doe, a prospector who made his fortune from silver found in Central City, Colorado. He was also the former father-in-law to Elizabeth McCourt, who became Colorado's famous "Baby Doe Tabor" after divorcing Doe's son and marrying Horace Tabor. Doe became instrumental to Oshkosh's development but eventually moved back to Colorado, and the house was sold.
It turns out, Brown is Doe's lineal descendent. And when she found out the house she knew once belonged to her great-great-great-grandfather was up for auction, she knew she had to make a bid.
"I realized that historically in Oshkosh, if a house is on the auction block it's likely to get torn down," she said. "Since it was an ancestral home, I talked with my husband, Paul, and we decided to try to save it."
Since they were living and working in Texas when the house went up for auction, Brown and Williams bought the house basically sight unseen. From the photos they saw, the house didn't look like it was in too bad of shape—Brown thought it needed some cosmetic updates, such as new paint and carpet—and she and Williams thought they could turn it into a bed and breakfast. But when they finally took ownership, as you might expect with a 150-year-old house, it quickly became clear more extensive repairs were needed.
The couple wanted to return the house as near to its original 1869 design—with some modern amenities and conveniences—but quickly discovered some plumbing, electrical and other renovations that had been added over the years would have to be completely redone.
"We went in and turned the water on and immediately started hearing a burbling somewhere, so we knew there must be a leak." Williams said. "We realized we had a tiger by the tail at that point."
He wasn't joking. The original city water line that ran to the house was lead pipe, and the 75-year-old galvanized plumbing Brown said "looked like Swiss cheese." The dining room ceiling was sagging due to some leaking pipes and a previous renovation where several ceiling joists had been cut, compromising its structural integrity. New boilers had to be added to utilize the converted hot-water radiators. The knob-and-tube wiring throughout the house all had to be removed and replaced. The kitchen had to be updated to become more functional.
Despite the enormity of these challenges, Brown and Williams' engineering backgrounds proved useful for all the major decisions they had to make when restoring the house. "It was a huge impact on the direction we took with doing the house," Brown said. "I was more interested in the pipes and the efficiency and the function of the structure. Somebody once said to me, 'You know, nobody's going to be able to see any of these things.' But it's important to me. I want to know that this is more efficient, and there's some sustainability in preserving the structure as opposed to tearing it down and starting over. The appeal to me was on the engineering side."
Williams approached the project in a similar way. "It's definitely the engineering view of things," he said. "How can we create something better, but at the same time, drive some additional efficiencies into it and do some cost-benefit analysis."
The couple spent the next couple of years overseeing these major updates, and the house became a passion project for them both. For Williams, in particular, it was a great project to pick up after retiring from the oil and gas industry. To recognize their efforts at preserving and restoring the historical aspects of the house, Brown and Williams were awarded the Acanthus Award by the City of Oshkosh Landmarks Commission for educational outreach in historical preservation. The house was also awarded a landmark plaque in July 2019 for the structure's 150th anniversary.
"I think, in the end for us, it was being able to preserve that history and then be able to share it with others and maybe drive some enthusiasm for that," Williams said. "I think we would do it again. This one was special, because it was in [Becky's] family and it was a labor of love. The next one will also probably be a labor of love, but in a different kind of way."
The Doe House
4,700 square-foot house
Four bedrooms that sleep up to 12 people
Originally built in 1869
Available to book on VRBO
Artist-in-residence program
Much of the Doe House's restoration and renovations were completed at the height of the COVID-19 pandemic. While Brown and Williams couldn't open the house as the bed and breakfast they originally intended, they did open it as a short-term rental. And In February 2021, they started an artist-in-residence program to give artists a safe place to isolate while gaining a new place to find inspiration and creativity. The program continues today, and artists of all mediums are invited to apply to stay anywhere from 10 days to three weeks.
The Carriage House
Brown and Williams also restored the carriage house on the Doe House's property. The carriage house was rebuilt in 1913 but was infested with critters and had been pushed off its foundation. They fixed the foundation, insulated the structure and updated the wiring for electric vehicles.