In the midst of a global pandemic, Colorado School of Mines launches its first biomedical and biotech undergraduate degree
The Quantitative Biosciences and Engineering bachelor's degree is built for students interested in pre-med and a host of new and emerging biological fields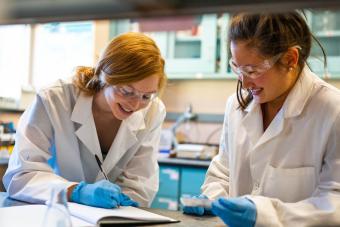 A new undergraduate degree program at Colorado School of Mines will prepare students to harness the power of biology and mathematics to address the next generation of challenges in healthcare, energy and the environment.
The Bachelor of Science in Quantitative Biosciences and Engineering will begin enrolling students this fall. The new program will provide a rigorous Mines education at the interface of biology, mathematics, computer science, physics and chemistry, focused on the quantitative skills and mindset needed for impactful careers in medicine and biomedical fields, as well as bioenergy, biomaterials, bioengineering, biomechanics, bioenvironmental and biophysical engineering. 
"Graduates of the Quantitative Biosciences and Engineering Program will be uniquely equipped to tackle the challenges we will face today and in the not-too-distant future, including the impact of the data revolution and Big Data," said Brian Trewyn, associate professor of chemistry. "Simply put, there is a need for graduates who can both use a micropipette in the laboratory and write code at the computer terminal – this new bachelor's degree program will produce such individuals."
Mines already has a large pre-med student organization on campus. When introducing the program to Mines trustees earlier this month, Trewyn noted that those students are interested in a degree that offers a unique path to medical school, something this program will provide.
"Student demand for an undergraduate biology program at Mines has steadily grown over the years, stemming from their interest in pursuing a medical profession, graduate programs in cell biology, immunology, genetics and more, and careers in the thriving biotechnology industry," Mines Provost Richard C. Holz said. "We are excited to launch the Quantitative Biosciences and Engineering Program at the undergraduate level and provide students interested in bioscience and engineering careers with a distinct education they cannot get anywhere else."
Students in the Quantitative Biosciences and Engineering program will receive a strong foundation in mathematics, physics, chemistry, computer science and engineering, in addition to core courses in the fundamentals of biology, cell biology and physiology, genetics, biochemistry, quantitative biology and microbiology. Electives are designed to support students with interests in a particular area of biology, such as pre-med, ecology, systems or molecular, along with critical quantitative skills.
Mines has offered biology courses for 25 years, with more than 20 bio-related courses currently offered and more in development. The number of Mines faculty members conducting research in biosciences and engineering has also increased, from just three in the 1990s to more than 40 in 2020. The new undergraduate program follows the launch of Mines' first bio-related degree program at the graduate level in Fall 2018. The Quantitative Biosciences and Engineering Graduate Program offers master's (thesis and non-thesis) and doctoral degrees.
For more information about the Quantitative Biosciences and Engineering Program, go to https://www.mines.edu/academics/bachelors-quantitative-biosciences-and-engineering/.