Meenakshi Singh wins Fulbright Distinguished Scholar Award for quantum research in India 
Physics associate professor will spend 2023-24 academic year at the Indian Institute of Science in Bengaluru, India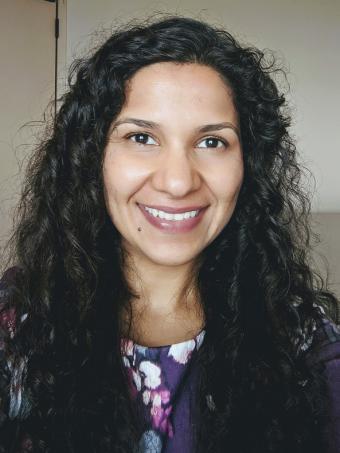 Meenakshi Singh, associate professor of physics at Colorado School of Mines, has won a Fulbright-Nehru Professional and Academic Excellence Award to conduct quantum physics research at one of the top research institutes in India. 
Singh will spend the 2023-24 academic year at the Indian Institute of Science (IISc) in Bengaluru, India, where she plans to collaborate with two research groups  on quantum physics discovery projects that will bring new insights into understanding of fundamental physics in quantum materials and devices and catalyze novel applications. 
"The last two decades have seen the rapid rise of Quantum Information Science (QIS) research and technologies enabled by unprecedented control over individual units of quantum information. In the last five years, both Colorado School of Mines and the Indian Institute of Science have started quantum initiatives to address this second quantum revolution via renewed research and educational efforts," Singh said. "Through my Fulbright Award, I hope to play an impactful role in these efforts for Mines and IISc and their respective countries by building lasting research collaborations, a student exchange program, and cultural engagement."  
The Fulbright Program is the U.S. government's flagship international educational exchange program and is supported by the people of the United States and partner countries around the world.  
An expert in quantum physics, Singh's research spans exploring novel physics in reduced dimensionality systems and quantum materials to building and testing device prototypes for applications.  
During her Fulbright term at IISc, Singh plans to focus on thermal effects in quantum systems, capitalizing on recent advancements in thermometry, nanofabrication, and cryogenic measurements.  
"Thermal effects in quantum systems are important for several reasons. First, they offer unique insights into fundamental physics. Second, temperature controls system dynamics.  For example, a thermal gradient across a sample can generate currents across the sample. Finally, these effects have impactful applications. Proposals – and sometimes demonstrations – of on-chip thermal management using quantum effects, quantum Carnot engines, and thermal quantum logic abound in literature," Singh said. "Despite this promise, the challenges of measuring samples that are often in the nano-scale regime at cryogenic temperatures have precluded the widespread study of these effects until recently. This collaboration aims to contribute to filling this gap by capitalizing on recent advancements to perform meaningful investigations of thermal effects in quantum materials and devices."