Materials Science PhD graduate wins Rath Award at Fall 2021 Graduate Commencement
During Dec. 17 ceremony, Mines awarded 79 doctoral and 246 master's degrees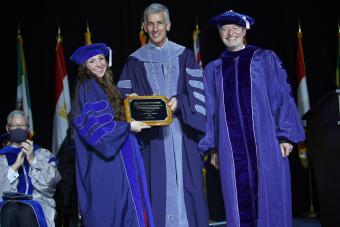 Deborah McGott, PhD in Materials Science, is the winner of the Fall 2021 Dr. Bhakta Rath and Sushama Rath Research Award.
The honor, which recognizes the Colorado School of Mines doctoral graduate whose thesis demonstrates the greatest potential for societal impact, was presented during the Fall 2021 Graduate Commencement on Dec. 17. During the mid-year commencement ceremony, Mines awarded a total of 79 doctoral and 246 master's degrees to December graduates.
Mines also held an undergraduate commencement ceremony earlier in the day at 9 a.m. Both ceremonies were held at Lockridge Arena.
McGott's dissertation, "Development and Application of Novel Thermomechanical Cleave Technique for Cadmium Telluride Solar Cells," focused on improving the efficiency of CdTe cells – a leading commercial thin-film solar cell – in converting sunlight into electricity.
McGott built a custom instrument to better examine the charge separation and recombination inside the solar cells, discovering several causes limiting cell performance and finding new ways to improve the devices.
McGott was advised by Colin Wolden, professor of chemical and biological engineering at Mines, and Matt Reese from the U.S. Department of Energy's National Renewable Energy Laboratory (NREL). McGott's thesis produced seven papers in high impact journals, and she co-authored 10 papers with her collaborators at NREL.
"What's significant about Deborah's work is that it has both technological relevance, enabling the development of lightweight, high specific power photovoltaics, as well as creating a platform to study and answer fundamental scientific questions," Wolden said.
McGott is also a role model who "hopes to inspire the next generation of women scientists and engineers through her work in K-6 outreach programs at local schools and science fairs," he said. After graduation, McGott will continue working at NREL as a postdoctoral scientist, focusing on a career to advance sustainability.
Runner up for the Fall 2021 Rath Award was Ryan Gasvoda. Advised by Chemical and Biological Engineering Professor Sumit Agarwal, Gasvoda's thesis was titled "Strategies to Enhance Etch Selectivity During Plasma-Assisted Atomic Layer Etching of Silicon-Based Dielectrics."
The other Rath finalists were Mikaela Algren, Dorcas Idowu, Sen Liu, VeeAnder Mealing, Josh Mueller, Victoria Vaccarezza and Yuhui Zhang.
ADDITIONAL GRADUATE AWARDS
Emeritus Faculty Exemplary Graduate Student: Chosen by emeritus faculty in the Department of Mechanical Engineering, this award is presented to an exceptional graduate student. Rachel Goddard
Outstanding Graduating Master's Student Award in Computer Science: Chosen by faculty in the Department of Computer Science, this award is presented to an exceptional graduate student. Lucas Henke and Mackenzie Hull
Outstanding Graduating Master's Student Award in Petroleum Engineering: Chosen by faculty in the Department of Computer Science, this award is presented to an exceptional graduate student. Balnur Mindygaliyeva
Outstanding Graduating PhD Student Award in Petroleum Engineering: Chosen by faculty in the Department of Computer Science, this award is presented to an exceptional graduate student. Bowen Yao