Mark your calendar: Sixth annual #idigmines Giving Day is Feb. 3
Show your OreGiver love for the campus causes you dig the most!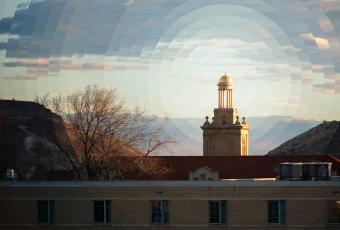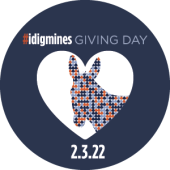 #idigmines Giving Day is back, and there's more than $130,000 in bonus and matching funds up for grabs for our 33 featured causes, thanks to our Lead Corporate Champion Credit Union of Colorado, Lead Challengers Andrew P. '78 and Sherry P. Swiger and other generous Mines donors.
By popular demand, this year's donors can donate to any Mines cause through #idigmines, not limited to the 33 featured causes.
The $35,000 Grand Bonus will be divided among the 33 featured causes based on their percentage of overall donors at the end of the day. There will also be hourly and day-long challenges to encourage OreGivers to support their favorite causes. Some include:
Student 2:1 Match: President and Mrs. Johnson, Mines Foundation President & CEO Brian Winkelbauer and donors to the Wagner Excellence Fund are doubling all student gifts made throughout the academic year, up to $11,000. On #idigmines Giving Day they will TRIPLE student gifts.
Alumni 1:1 Match: The Swigers will match alumni gifts throughout the day dollar-for-dollar up to a total of $15,000.
At the end of the day, the cause with the most student and alumni donors will each receive an additional $2,500 bonus gift.
Starting Jan. 31, have some fun and unlock cash for your causes by participating in any or all virtual and in-person activities.
Virtual events:
Clue Crusade

Take a journey through Mines' websites to learn about the people and projects that make our school great. Even better, follow the clues to uncover a key phrase for your chance to win a bonus for your favorite cause.

Where's Blaster?

Download our giving day illustrations. Be one of the first 10 to find the hidden objects for your chance to win money for your favorite cause.

 #idigmines Spirit Challenge

Grab your hard hat, swag and memorabilia (or dig through your photo archive) and submit your most spirited photo on social media for your chance to win some cash for the cause you dig the most.
On-campus events:
Kick-Off Coffee & Cornhole

Join us at Arthur Lakes Library from 7 – 9 a.m. to kick off the day with free coffee, hot chocolate and to play a round of lightning cornhole for your chance to unlock bonus funds for the cause you dig the most.

Blaster Treasure Hunt

Let's go mining for gold! Twenty Golden Blasters will be hidden across campus between 9 a.m. and 4 p.m. on Feb 3. Find one, snap a masked selfie with Blaster and unlock money for your favorite cause.

Mines Trivia Cash Cart

Look for the Cash Cart around campus to hitch a ride to your classes and meetings throughout the day. While en route, answer Mines trivia questions to unlock cash for your favorite causes.

MAC Game Night (students only)

Students can join Mines Activities Council from 6 – 8 p.m. in Friedhoff Hall for a game night! Play minute-to-win-it games, board games or bring your own fun for a chance to unlock funding for your favorite causes. As a bonus, we'll provide food, drinks and door-prizes (while supplies last).
Regional events:
M Club Happy Hours

Join the Denver M Club at Diebolt Brewing (3855 Mariposa St., Denver, CO 80211) from 5:30 – 7:30 p.m. on Feb. 3 to relax, play a round of Mines trivia and support your favorite causes.

Virtual Treasure Hunt

Be sure to follow @minesalumni on Instagram to participate in a virtual scavenger hunt. M Club leader Tiffany Brewster '07 has hidden a 3D-printed Blaster in Bakersfield, California – be the first to guess the location (as a comment on the Instagram post) and you get to pick where $100 is designated on giving day.
The sixth annual giving day is an excellent way for each of us to show our OreGiver spirit and support the programs, departments and innovation that make Mines such a special place. Thank you for building on the pride we all share in our exceptional past, creating excitement for our present successes and enabling future possibilities!
More bonus opportunities and information on #idigmines Giving Day can be found at weare.mines.edu/idigmines.