Kate Youmans named Presidential Fellow for Diversity, Inclusion and Access 
Dr. Youmans will lead the DI&A team at Mines and collaborate across campus to help the university achieve its strategic goals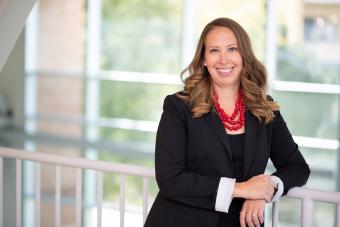 Kate Youmans, Teaching Associate Professor of Engineering, Design and Society, has been selected to serve as the new Presidential Fellow for Diversity, Inclusion, and Access at Colorado School of Mines. 
As Presidential Fellow, Dr. Youmans will lead the DI&A team at Mines and collaborate across campus to help the university achieve its strategic goals around diversity, inclusion and access, including the cultivation of a campus culture that promotes and celebrates inclusion and achievement, and continued work to attract and retain both a diverse student body and employee community. 
Throughout her career as an engineer and educator, Youmans has been a strong advocate for diversity and inclusion and has built programs to empower and support the success of underrepresented students in STEM fields. This new role will leverage her 15 years of experience in educational leadership, engineering education scholarship, and commitment to advancing diversity, equity, and inclusion in higher education. 
"I am excited for the opportunity to step into the role of Presidential Fellow for Diversity, Inclusion, and Access at Mines and to advance the foundational work done by Dr. Amy Landis and the DI&A team," Youmans said. "I look forward to working collaboratively with partners across campus to promote this important work in the Mines community, and I am eager to elevate the voices of Mines students, faculty, and staff in order to deepen the impact of our DI&A work and create a more inclusive campus climate." 
At Mines, Youmans has served as a Newmont STEM Equity Fellow, Mines DI&A Ambassador and lead instructor for the 2022 Summer Multicultural Engineering Training Program. She also currently serves on the board for the Women in Engineering Proactive Network. 
Before joining the Mines community in 2021, Youmans worked in the medical device industry designing surgical instruments and served as the manager of middle school programs for the Office of Engineering Outreach at MIT. She also served as the Director of STEM programs at the American International School of Utah, and Director of Multidisciplinary Design Programs at Johns Hopkins. 
Youmans holds a PhD in Engineering Education from Utah State University, a MEd in Science Education from Boston University and a BS in Mechanical Engineering from Worcester Polytechnic Institute.  
Youmans succeeds Amy Landis, Mines' inaugural Presidential Fellow for DI&A. Landis has served in the role since 2017. The two will work collaboratively to transition the leadership of DI&A projects through April 3, at which point Youmans will take on the leadership of DI&A initiatives at Mines.  
"In the coming months, the DI&A team will be launching several initiatives to better understand the needs of our campus – we hope you will take the time to make your voice heard," Youmans said. 
The Mines community will have the opportunity to celebrate both Landis and Youmans on April 3 during the Celebration of DI&A at Mines event. 
More information about Mines' DI&A efforts, including annual reports, can be found at mines.edu/diversity.