Joe Coors Jr., a great-grandson of Coors Brewing founder Adolph Coors, a former member of the Colorado School of Mines Board of Trustees and an enthusiastic supporter of Mines athletics—particularly the golf team—died September 15. He was 74 years old.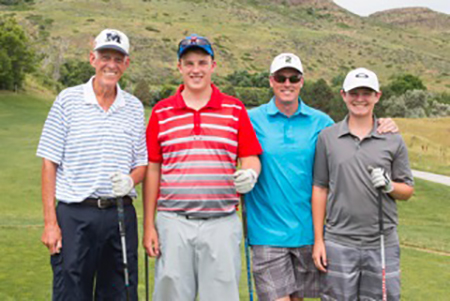 Joe Coors Jr., left, with his son Doug and his grandsons at the Mines Athletics golf outing.
As a trustee from 1991 to 1999, Coors had a special interest in the physical health and wellness of Mines students, said Marv Kay, longtime Mines football coach and athletic director. "He was a strong advocate of the required physical education for all freshmen and sophomores."

Coors was often seen at Mines basketball games to watch his son Doug, then an undergraduate—a practice that continued long after Doug graduated. "He was a great donor and a great fan who regularly attended our athletics events," said David Hansburg, director of athletics at Mines.

Coors served on search committees to hire new athletics department staff and, Hansburg said, "had a special place in his heart for the men's golf program."

"No one will ever have a greater impact on our golf program," said Mines Head Golf Coach Tyler Kimble. "Joe once told me that the game of golf developed confidence and competence—two major traits every engineer should have," Kimble added.

"Joe believed in investing in people," Kimble said, and Coors proved that by investing hundreds of thousands of dollars in the program from 2007 to 2016.

Kay said Coors' support helped the Mines golf team become one of the strongest college teams in the country. Coors also sponsored the annual fundraising golf tournament for Mines athletics.

"Joe's impact on Mines athletics is everlasting, and he will be greatly missed," Hansburg said.

Until recently, Coors was part of a group that met daily at noon at the Volk Gym for basketball. "He was a fierce competitor," Kay said. "I am extremely honored over my many years at Mines to have known Joe Coors, and enjoyed his strong support for and the very special relationship he had with Mines and Mines athletics," Kay said.

Michael Kaufman, dean of the College of Applied Science and Engineering, met Coors at those noontime games. "Joe was a great individual who really cared about Mines and the Mines community," he said. "He will be sorely missed both on and off the court."

Coors also had an influence on Mines through CoorsTek, the world's leading manufacturer of engineered ceramics that has supported research and academics on campus, a partnership that continues to grow stronger.

"He had a huge impact on Mines in a myriad of ways," said Ivar Reimanis, Herman F. Coors Distinguished Professor of Ceramic Engineering in the Department of Metallurgical and Materials Engineering.

Coors joined Coors Porcelain, the company that would become CoorsTek, in 1973 and held various positions before retiring in 2000 as CEO and chairman.

In 2014, CoorsTek and the Coors family announced a $27 million commitment to fund a research partnership and the construction of the CoorsTek Center for Applied Science and Engineering at Mines.

"Joe was an adept business leader in so many ways, but is probably best remembered for his ability to build relationships, find creative solutions to problems, and infect others with his can-do attitude," said CoorsTek Chairman John Coors, his brother. "He was a great inspiration and friend to me and scores of others. I will miss him."

"The entire family is deeply saddened by Joe's death," said Pete Coors, Joe Coors' brother and vice chairman of Molson Coors Brewing. The family plans to hold a celebration of his life later this fall.

Joe Coors is survived by his wife, Gail; four children and nine grandchildren; his brothers Pete, Jefferey, W. Grover and John Coors; a great-uncle, William K. Coors; and numerous nieces, nephews and cousins.
Contact:
Mark Ramirez, Communications Manager, College of Applied Science & Engineering | 303-384-2622 | ramirez@mines.edu
Ashley Spurgeon, Editorial Assistant, Mines magazine | 303-273-3959 | aspurgeon@mines.edu