Innovation takes center stage at Mines with creation of Entrepreneurship & Innovation Ecosystem
Victoria Bill and Zack Bennett to lead two key innovation-centric facilities coming online in 2024, the Labriola Innovation Hub and Beck Venture Center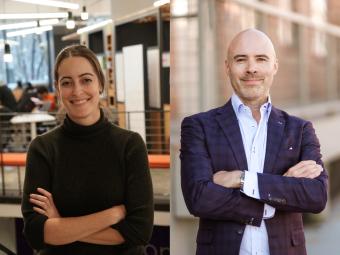 On the cusp of its 150th anniversary, Colorado School of Mines is making major investments in fostering entrepreneurship and driving innovation on campus through the creation of the Mines Entrepreneurship and Innovation Ecosystem.
From groundbreaking research to signature student experiences, every aspect of Mines' academic community is dedicated to cultivating an environment where innovation thrives.
The Mines E&I Ecosystem will expand the reach and impact Mines faculty, students and alumni have in the world by providing them with a state-of-the-art network of facilities, programs, resources and business connections to expedite their ideas, concepts and solutions into the marketplace.
Two foundational pieces of the ecosystem – the new Labriola Innovation Hub and Beck Venture Center buildings – are set to open on campus in January 2024. Mines also recently hired the founding directors for the two innovation-centric facilities and associated programming:
Zack Bennett, a Mines alum and successful entrepreneur with more than 20 years of experience in clean energy and financial tech, is leading the Beck Venture Center and Venture Program
Victoria Bill, founder of academic makerspaces at New York University and Cooper Union, is leading the Labriola Innovation Hub
Both joined the Mines community over the summer, hitting the ground running to prepare for the openings of both facilities in 2024 – the same year in which Mines will celebrate its 150th anniversary.
"We're excited to have recruited Victoria and Zack to be the inaugural leaders for two of the three main components of our Entrepreneurship and Innovation Ecosystem," said Paul C. Johnson, president of Colorado School of Mines. "They both have great visions for activating the soon-to-be opened Labriola Innovation Hub and Beck Venture Center and how to connect their efforts to each other and with our existing McNeil Center for Entrepreneurship and Innovation, and ultimately the world outside of Mines. This integration of facilities and programs, and the scale at which they are being implemented at Mines is unique in higher education and will further differentiate and cement Mines' position among the world's top STEM-focused universities. We're very appreciative of the significant investments our donors have made to bring this vision of E&I at Mines to reality, and we're looking forward to having visitors and prospective partners come see it in action."
Beck Venture Center: Where entrepreneurs connect, pitch and launch
Located at the corner of 17th and Washington streets in Golden, the Beck Venture Center will combine unique spaces, supportive programming and rich resources designed to help Mines students, faculty and alums successfully launch companies based on their breakthrough ideas, solutions and technologies.
The 31,000-square-foot coworking, event and innovation space is the perfect place on campus for entrepreneurs, investors, mentors, companies and students to connect, collaborate and launch. The cafe and coworking space will accommodate up to 300 people working on their ideas, while the classroom and meeting spaces are ideally suited for teaching the next generation of entrepreneurs. For big events, the "hangar door" on the main event space can be opened to turn the entire first level into one large event space to host the broader community.
Inside the Beck Venture Center building, the Mines Venture Program will provide the support that startups need to launch. Some highlights of the program include organizing and coordinating a world-class network of mentors and advisors, twice-a-year "look books" and demo days to showcase startups to the investor community, support from a highly curated network of service providers, and regular educational and networking programs.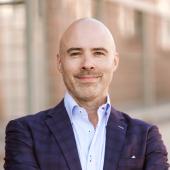 Founding director Zack Bennett is a Mines alum, graduating in 1999 with a B.S. in electrical engineering before heading off to Silicon Valley at the height of the dot com boom. He started his career as an engineer, a management consultant and an executive at American Express. From there, Bennett turned to the fast-paced world of startups where he has founded and operated multiple companies and has had several exits (Idomoo - $65MM, EVRYTHING - $100MM, Abaxx Technologies - $250MM).
In addition to building startups, Bennett is also the best-selling author of Winning in the Future of Work, a book that walks readers through the biggest changes on the workplace horizon and delivers proven strategies to help everyone achieve new levels of empowerment, independence, and success.
"I couldn't be more excited to be back at Mines," says Bennett with an energetic smile. "When I was an undergrad back in the late 90s, all I wanted to do was found a startup, but I had no idea where to even start. If we had something like the Beck Venture Center back then, it would have accelerated my journey as an entrepreneur by at least 10 years. We are building a platform here that will launch billion-dollar companies."
The Beck Venture Center was made possible by a generous lead gift from entrepreneur Mike Beck and his wife, Kelly, of Sarasota, Florida, the parents of two Mines alumni. The Becks saw the growing E&I Ecosystem at Mines and designated their gift to catalyze the vision of turning student and faculty innovations into successful products and companies.
Labriola Innovation Hub: A playground to bring ideas to life
Located in the heart of the new Labriola Innovation District at 14th and Maple streets on the Mines campus, the Labriola Innovation Hub will provide state-of-the-art makerspaces where students can move seamlessly among the tools and equipment they need to bring their ideas to life, creating, prototyping, testing and revising innovative engineering projects.
Among the makerspaces and labs to be housed in the 37,000-square-foot building are wood and metal shops, a 3D-print and rapid prototyping makerspace, electronics lab, composites and paint shop, and a tool check-out. They'll be surrounded by work space and meet-up areas where student teams – for classwork, extracurricular clubs and competitions and just for fun – can iterate together. Cornerstone and Capstone Design, Mines' signature hands-on design experiences for students, will also have dedicated lab spaces in the building.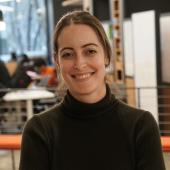 Founding director Victoria Bill brings more than 10 years of experience in makerspaces and co-curricular engineering student development, having founded academic makerspaces at Cooper Union and New York University. At NYU, she also founded the Experiential Learning Center, focused on student success pathways and professional skill development. Bill holds a master's degree in electrical engineering from the University of Texas at Austin and a bachelor's degree in electrical and computer engineering from The Ohio State University. She is currently pursuing a PhD in engineering education from Ohio State.
"The Labriola Innovation Hub is a transformative, cutting-edge resource for Mines students, connecting them to advanced machining and prototyping in one building," Bill said. "I am excited to build and launch this Hub of design activity for the team projects and co-curricular, hands-on activities that are critical to the Mines signature student experience. It will be the centerpiece and showcase for Mines' student innovation to the world, and I can't wait to see what they create."
The Labriola Innovation Hub is named in honor of lead donors Frank Labriola '52 and his late wife, Mary, of Phoenix, Arizona. Frank's generosity was driven by his passion for the entrepreneurial spirit at Mines as it helps drive the prosperity of our nation and the world.