Incoming Colorado School of Mines graduate student wins AGI scholarship
Israel Jaramillo awarded first-ever American Geosciences Institute scholarship aimed at advancing diversity in field
An incoming graduate student at Colorado School of Mines is the winner of the inaugural Scholarship for Advancing Diversity in the Geoscience Profession from the American Geosciences Institute (AGI).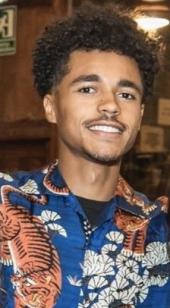 Israel Jaramillo will begin his graduate work in geology and geological engineering at Mines this fall. His research interests include carbon sequestration and petroleum systems, particularly in the eastern Guyana region of South America.
"Being awarded this scholarship means everything to me," Jaramillo said. "It will help me pursue my dreams and give me more time to research in graduate school. This scholarship provides me the impetus to continue my passions in life and help improve diversity in the geosciences."
The one-time, merit-based scholarship from AGI is designed to attract and advance students from backgrounds underrepresented in the geosciences and help them make the critical transition from undergraduate to graduate studies. Jaramillo recently received a joint bachelor's degree in geology from the University of Colorado and the University of Wollongong in Australia.
"The Geology and Geological Engineering Department at Colorado School of Mines is committed to enhancing diversity and inclusion, both within our ranks and within the geosciences at large," said Wendy Bohrson, professor and department head. "We are thrilled that AGI recognized Israel for his many talents and accomplishments, and we look forward to welcoming him to our community, learning from and about his life experiences, and benefitting from his scientific expertise and creativity."
At Mines, Jaramillo will be pursuing a master's degree in geology and geological engineering and conducting research with Lesli J. Wood, Weimer Distinguished Chair and professor in sedimentary and petroleum geology.
"Israel is the quintessential earth scientist — he is curious about the Earth and all it holds. He loves to travel and share learnings with global cultures," Wood said. "Our job as Mines faculty is not only to lead the charge for diversity in sciences but to create scientists and educators such as Israel who will become the leaders of tomorrow."