The presence of highly fluorinated organic chemicals, sometimes referred to as PFCs or poly- and perfluoroalkyl substances (PFASs), in groundwater continues to be a pressing issue for communities in Colorado and throughout the country. Faculty at Colorado School of Mines have led the research identifying the problem (Study finds high levels of toxic chemicals in drinking water) and, more recently, developing solutions (Mines tackles treating PFC-contaminated water).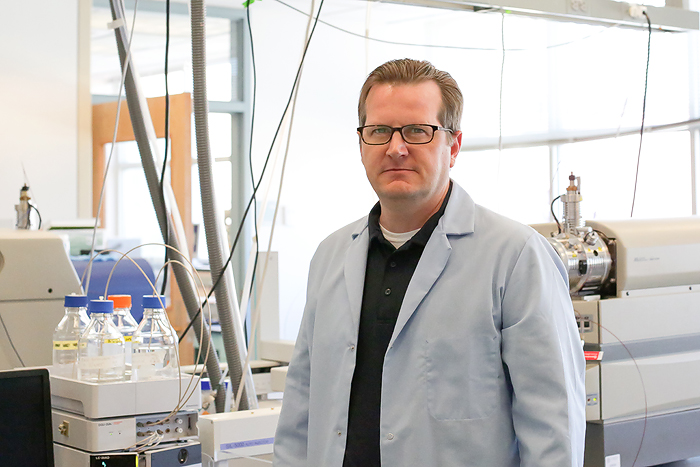 Now the Department of Defense's Strategic Environmental Research and Development Program (SERDP) has awarded a three-year $1.5 million grant to Christopher Higgins, associate professor in the Department of Civil and Environmental Engineering, to further investigate how PFASs are released, travel and react to other contaminants.
"The ultimate goal," explained Higgins, "is to treat these PFAS sites."
To do this effectively, Higgins and his team have proposed to first develop an understanding of how existing remediation technologies that are used to treat the co-occurring contaminants affect PFASs.
These co-contaminants include chlorinated solvents and fuel hydrocarbons, and are often found at sites where aqueous film forming foam (AFFF) has been used. PFASs have already had an impact on groundwater near military sites where AFFF was used, often mixed with these co-contaminants.
"My team will be conducting batch and column laboratory experiments, using field-collected groundwater and soil samples," Higgins said. "We want to look closely not only at the compounds that are the focus of EPA Health Advisories, but also at how and under what conditions newly identified polyfluorinated PFASs are converted to the more problematic perfluorinated chemicals."
Higgins will also investigate the interactions of PFASs with nonaqueous phase liquids, such as gasoline and oil. A fully synergistic remediation effort will require more data to develop technology to meet the sites' requirements.
The research project, titled "Key Fate and Transport Processes Impacting the Mass Discharge, Attenuation, and Treatment of Poly- and Perfluoroalkyl Substances and Comingled Chlorinated Solvents or Aromatic Hydrocarbons," is a collaboration between Mines, Oregon State University, CDM Smith and the University of California at Berkeley, with Higgins as the principal investigator.

A related project, also funded by SERDP, is being led by Jens Blotevogel, a research professor at Colorado State University, to treat PFCS with electrolysis-based technology.
Strategic Environmental Research and Development Program is the Department of Defense's environmental science and technology program. It invests across a broad spectrum of basic and applied research, as well as advanced development, in an effort to solve environmental challenges with innovative environmental technologies that enhance and sustain military readiness.
CONTACT:
Deirdre Keating, Communications Manager, College of Engineering & Computational Sciences | 303-384-2358 | dkeating@mines.edu
Mark Ramirez, Communications Manager, College of Applied Science & Engineering | 303-384-2622 | ramirez@mines.edu