Hennebach Program, MME Department honored for collaboration with Denver music group itchy-O
Colorado Business Council for the Arts recognized Mines group for "advancing the field of musical engineering and showcasing the intersection of the arts and science"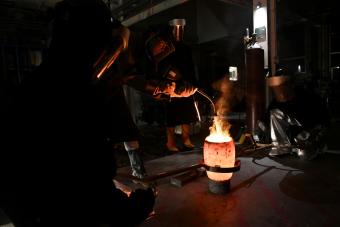 An artistic – and metallurgical – collaboration between Colorado School of Mines and a Denver music performance group has been recognized by the Colorado Business Council for the Arts (CBCA).
The Humanities, Arts and Social Sciences Department's Hennebach Program in the Humanities and the George S. Ansell Metallurgical and Materials Engineering Department were one of 12 honorees for CBCA's 2023 Business for the Arts Awards, the only statewide event honoring companies and individuals for their outstanding partnerships and engagement with the arts.
The Mines group received the Arts & Business Partnership Award at a special luncheon March 7 in recognition of their work to design and fabricate a custom set of instruments for itchy-O, a 50 plus-member avant-garde music performance group based in Denver.
Inspired by a Balinese gamelan, the instruments featured a custom bell metal alloy created with recycled cymbals donated by the Denver music community and more than 50 individual pieces – gongs, metallophones and more. All of the pieces were cast in the Metallurgical and Materials Engineering Department's Hot Shop by Hennebach Artist in Residence and hot shop manager Sarah Harling. 
"We are extremely honored to have been recognized for our collaboration with itchy-O," Harling said. "This project would not have been possible without the effort and expertise of talented artists and engineers from Mines and throughout the musical and visual arts community in Colorado and beyond. We are so grateful to have been part of the collaboration that brought this instrument into reality."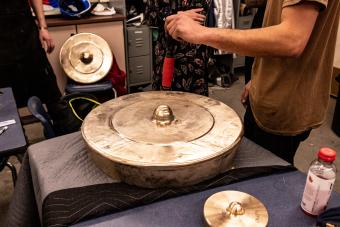 The intersection of art and science is at the heart of the HASS Hennebach Program in the Humanities, which, thanks to a major endowment from Mines alum Ralph Hennebach '41, has supported a series of visiting scholars to help make the humanities an essential component of any education at Mines since 1995.
As part of the itchy-O collaboration, Mines visual artists and writers – both students, faculty and the public – were invited to gather in the balcony overlooking the Hot Shop to craft poems inspired by the gongs being poured. The "ekphrastic" art inspired by the pours was displayed during an event on the Mines campus, where members of itchy-O performed with the one-of-a-kind instrument for the first time.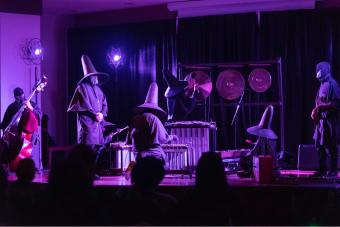 The full 50 plus-piece band performed with the Mines-made instrument, called SÖM SÄPTÄLAHN, at Denver' Fillmore Auditorium in July 2022. CBCA recognized the unique collaboration for "advancing the field of musical engineering and showcasing the intersection of the arts and science."
"This type of cross-discipline and cross-campus and cross-genre experience for students and faculty is what makes the humanities at Mines unique,"  said Seth Tucker, director of the Hennebach Program and teaching associate professor in humanities, arts and social sciences. "Our faculty and the experts and scholars and artists we bring to campus through the Hennebach Program continually push the limits of what is possible when we collaborate without regard to the synthetic distances that have been created between scientific enterprise and artistic expression. This event pushed the boundaries of metallurgy into completely new realms in research and design and the musical and literary efforts of Sarah Harling and the band and our students and faculty were impressive and unique."