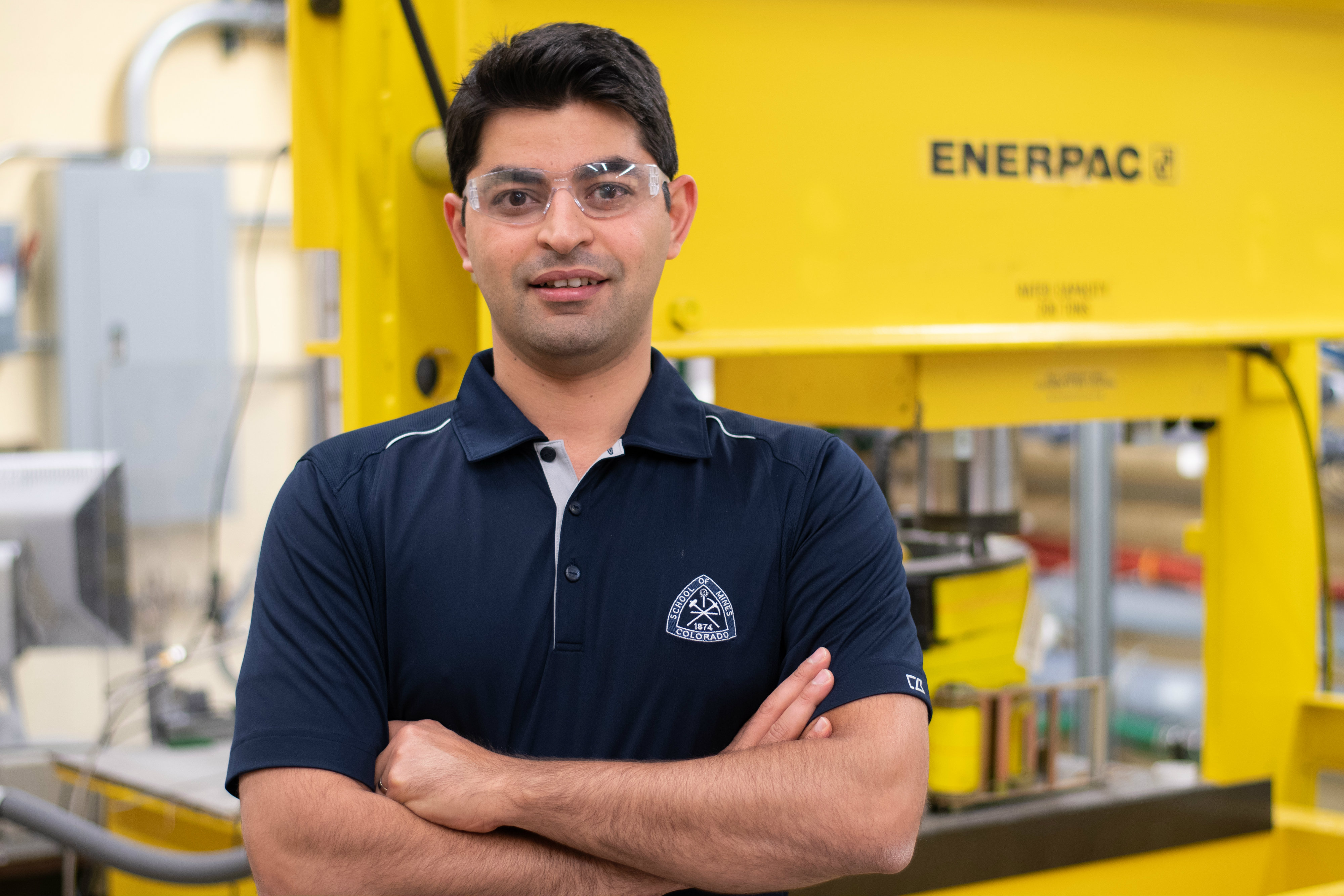 Reza Hedayat, assistant professor of civil and environmental engineering at Colorado School of Mines, has been selected for the U.S. Department of Energy's Early Career Research Program.
Hedayat will receive $750,000 over five years to support the development of novel multiscale experiments to identify the geophysical signatures accompanying subsurface crack network growth. 
"Understanding crack network growth in rocks is important for both the design and optimization of hydraulic fracturing operations, carbon sequestration and geothermal energy," Hedayat said. "Key subsurface processes, such as crack network coalescence, occur quickly and there lies the challenge we face – simulating subsurface conditions in the laboratory and developing tools to predict and monitor cracking."
Hedayat was one of 84 scientists at universities and national laboratories across the U.S. chosen for the award, DOE's Office of Science announced June 21. Two Mines faculty members – Hedayat and Chemical and Biological Engineering Assistant Professor Nanette Boyle – received the honor this year, the second year in a row that the university has had multiple winners.
"We are excited to hear of Dr. Hedayat's DOE Early Career award, which will advance understanding of seismic events and fluid-rock interactions and also provide new opportunities for training Mines students in this critical area," said Terri Hogue, professor and head of the Civil and Environmental Engineering Department. "Receiving this competitive and prestigious award attests to the significance and innovation of the research Reza is undertaking at Mines."
The behavior of the Earth's subsurface is controlled by discontinuities and cracks, ranging in scale from micro-cracks (micrometers) to fractures (millimeters to meters) to faults (10s of meters to kilometers).
To better understand how those crack networks interact and grow, Hedayat will use a true-triaxial testing system that is capable of simulating subsurface stress conditions. Compression experiments will be conducted on both transparent rock analogues with a random crack network and on natural sandstone and shale rock blocks. 
"Monitoring cracking processes in real time with advanced high-resolution imaging techniques and using creative laboratory conditions that simulate the in-situ environments offers unprecedented opportunities for identifying the underlying causes and conditions," Hedayat said. "At Colorado School of Mines, we are uniquely positioned to conduct this research and I am grateful to the Petroleum Engineering Department for providing access to the true-triaxial loading system."
Since joining the Civil and Environmental Engineering Department at Mines in 2015, Hedayat's research has focused on developing and using geophysical techniques for characterization of geomaterials and evaluation of underground structures. He holds a PhD in civil engineering from Purdue University.
Now in its ninth year, the DOE Early Career Research Program provides support to scientific researchers during the important early years when many do their most formative work. To be eligible, researchers must have received their PhD within the last 10 years and be an untenured, tenure-track assistant or associate professor at a U.S. academic institution or a full-time employee at a DOE national laboratory.
CONTACT
Emilie Rusch, Public Information Specialist, Communications and Marketing | 303-273-3361 | erusch@mines.edu
Mark Ramirez, Managing Editor, Communications and Marketing | 303-273-3088 | ramirez@mines.edu