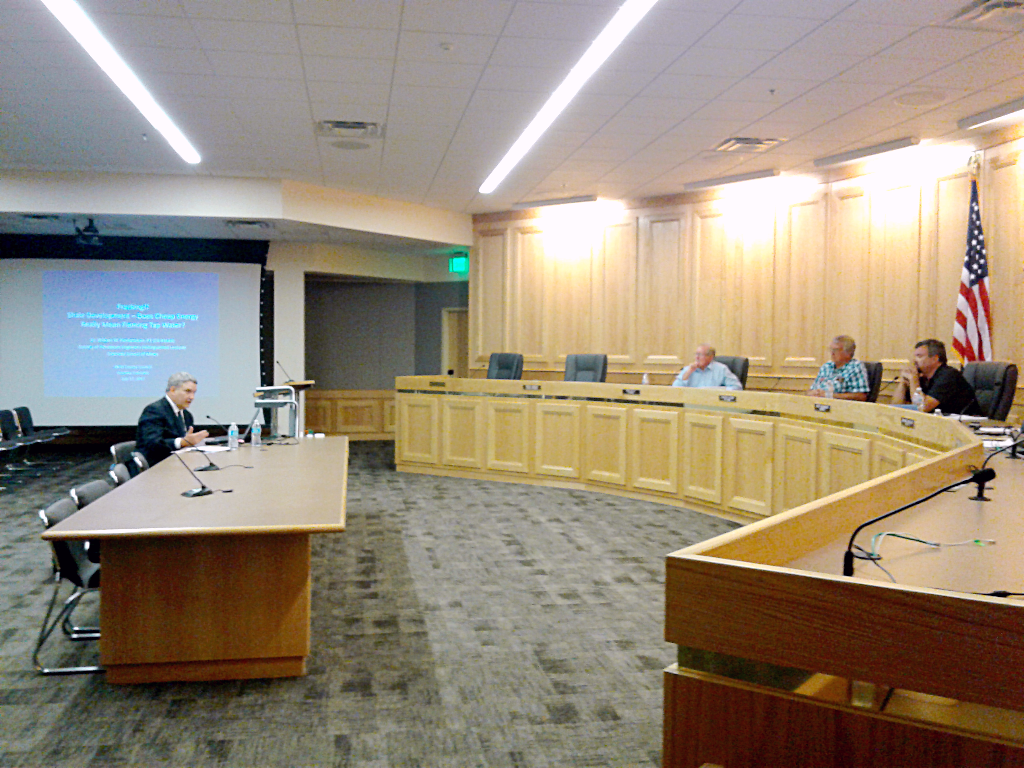 A Colorado School of Mines adjunct professor of petroleum engineering delivered a talk about hydraulic fracturing to the Weld County Council, which he will also take on his world tour as a Society of Petroleum Engineers distinguished lecturer for 2017-2018.
Will Fleckenstein presented "Shale Development —  Does Cheap Energy Really Mean Flaming Tap Water?" to the council July 17. He will deliver the same presentation at locations around the world, with talks already scheduled in Vancouver, Edmonton and Clairmont in Canada, and Comodoro Rivadavia and Buenos Aires in Argentina.
In light of the Firestone, Colo., home explosion in April related to an abandoned gas flowline, the Colorado Oil and Gas Conservation Commission ordered that all oil and gas lines within 1,000 feet of a building be tested. Shortly after the incident, nearly 3,000 wells across the state of Colorado, many in Weld County, were temporarily shut down until further inspections could be performed. As of July, the Greeley Tribune reports that few of these lines failed.
Fleckenstein spoke with the Weld County Council about hydraulic fracturing, its history and how to protect aquifers during the "fracking" process. Having conducted a research study on the Wattenberg Field sponsored by the National Science Foundation, he was able to bring practical results to the table. Fleckenstein's research found that 10 wells out of 18,000 had leakage, and said if a well is properly drilled and completed, the chance of leakage is very small compared to older methods.
Photo courtesy of Linda Kane, Weld County Council.
Contact:
Agata Bogucka, Communications Manager, College of Earth Resource Sciences & Engineering | 303-384-2657 | 
abogucka@mines.edu
Mark Ramirez, Managing Editor, Communications and Marketing | 303-273-3088 | 
ramirez@mines.edu